20+ Best FREE Things to Do in Prague
Local guide to awesome free activities in Prague

Although Prague is still a little bit more affordable than some cities in Western Europe, times have changed and it's not quite the budget-friendly city it may once have been and is getting more and more expensive every year (on the other hand - what isn't nowadays!). Of course, it depends on many criteria, the preferences of each traveller and what they expect from a visit to Prague - even here "as you make it, so you have it", or applies.
While some of the main attractions require visitors to dig deeper into their pockets, there are still plenty of free activities in Prague for those on a tight budget.
That´s why we have decided to share with you tips on the best free things to do in Prague, that will help you to make the most of your visit to Prague and fall in love with this amazing city without bleeding your wallet dry. After all, as it´s said - the best things in life are free!
So, read on and find out what are the best free attractions and things to do in Prague for free.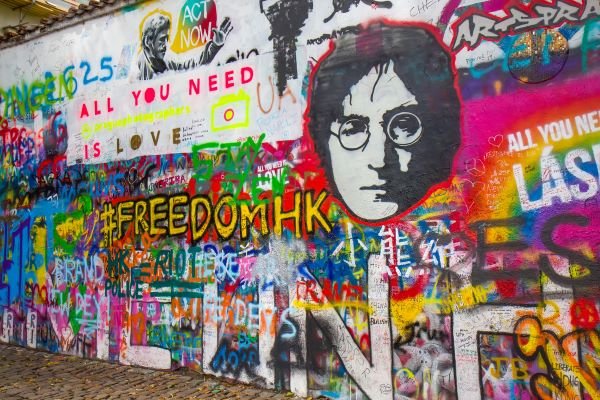 Tip:
A great way to see the best of Prague without spending a fortune is to buy the Prague Cool Pass. This tourist card offers significant discounts on admission to many of Prague's sights, some even for free (incl. a cruise on the Vltava River or a sightseeing tour by bus), and provides tourists with many other benefits.
Note: In most guidebooks, you will usually find tips on free things to do in Prague such as walking on the Charles Bridge, visiting the Old Town and so on. Of course, these activities are free because they are public places. In our guide, we tried to focus more on slightly different spots or activities. Maybe less well-known, but no less interesting or fun. But not to deprive you of the traditional tips for free activities in Prague, they´re mentioned in the last tip of this overview of things to do in Prague for free.

#1 Chill Out in Prague Green Oasis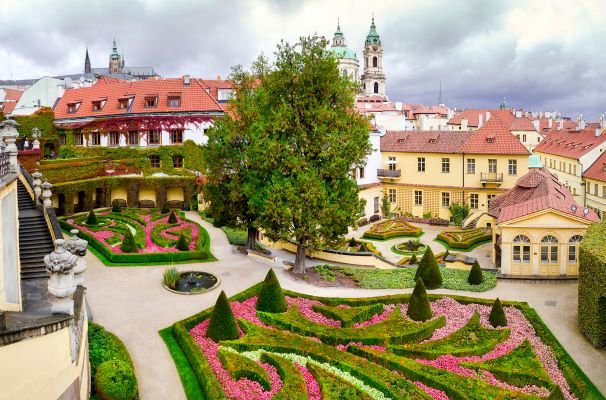 Prague is one of the greenest cities in the world, so if you want to get away from the busy streets for a while, there are plenty of options (by the way, the best parks and gardens in Prague are covered in THIS article). For spectacular views, head to Riegrovy Sady, Letná, Petřínské Sady or Parukářka. The Wallenstein Garden, Vrtba Garden, Vojanovy Sady or Grébovka are hidden treasures in the middle of the city. Stromovka and Ladronka offer great opportunities for a picnic or sports activities.

#2 Enjoy Prague from Above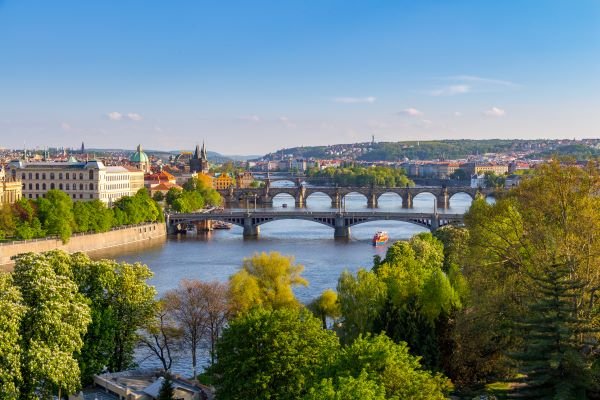 Although Prague is situated on the banks of the Vltava River, it offers plenty of spots with a breathtaking view. Head e.g. to Letná, Petřín Hill, Vítkov Hill or Riegrovy sady to witness this spectacle. Especially in summer, enjoying Prague at sunset from one of these places is one of the best priceless experiences and free things to do in Prague.

#3 Explore one of the best hangout spots - Náplavka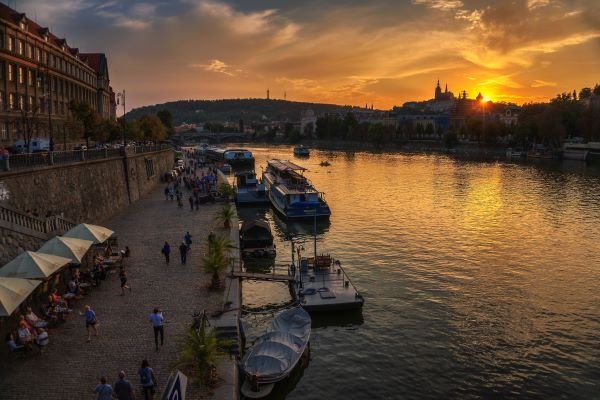 Rašín's Embankment, known among the locals as Náplavka, is one of the most vibrant and popular places among the locals. Take a stroll along the waterfront, have a drink in one of the bars or just hang out on the bank and enjoy the magnificent view of Prague Castle, boats or swans gracefully floating on the Vltava River. Náplavka is also a frequent venue for various festivals and farmers' markets.

#4 Taste the freshness and unique atmosphere at farmers' markets
Náplavka is not the only place where farmers´ markets are held. No matter whether you head to that one at Jiřího z Poděbrad Square, Dejvice or Hall 22, all of them dazzle you with an offer of seasonal produce, handmade crafts, flowers, spices and other local treasures. It's also the unique, lively atmosphere that makes farmers' markets one of the most popular free activities you can do in Prague.

#5 Swap a tram or metro for a ferry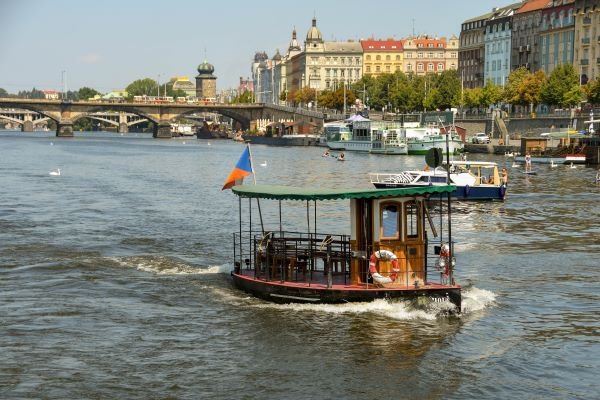 When one says public transport, most people think of buses, trams or the metro. In Prague, this includes transport on the Vltava River as well. In addition to the bridges, the two banks of the Vltava are connected by regular ferry lines that shuttle between the two banks from spring to autumn. Try this unconventional way of getting around Prague. Provided you have a public transport ticket, it´s a very interesting free attraction in Prague.

#6 Marvel at Playful Art in the streets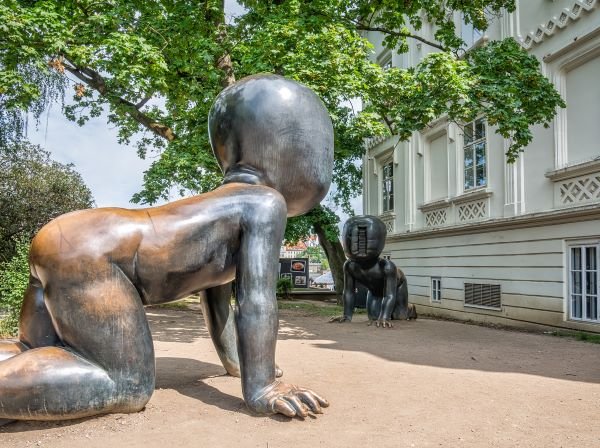 Are you one of those who like looking for weird things? Then this tip is for you: follow the footsteps of quirky statues. The Crawling Babies on the Žižkov Tower or in Kampa Park, the Hanging Man statue, the giant Lilith, Kafka's Head or the Peeing Figures are just a few examples of what you can come across in Prague. Whether you like them or not, a walk to see these attractions is one of the free activities in Prague that can´t miss in this pick.

#7 Take a photo at the best Insta spots in Prague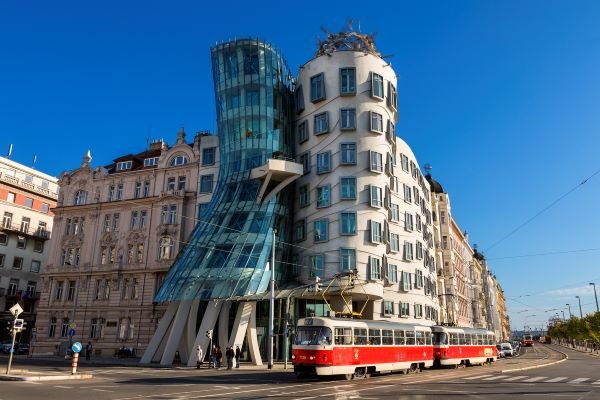 The Dancing House and the Lennon Wall. If there were a ranking of the top Insta spots in Prague, these two free attractions in Prague would definitely be on it. Although it is not our intention to encourage any hunt for the best photos from Prague, we simply cannot deny them their "photogenicity". And what's more - while posing in front of the Dancing House you will enjoy much fun.

#8 Enjoy museums and galleries for free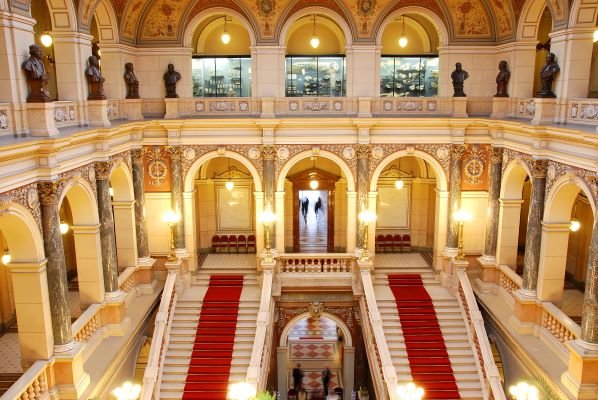 There are a few museums in Prague that offer free admission all year round. Namely, the Army Museum in Žižkov or the Aviation Museum in Kbely. On certain days, often during public holidays, the National Museum or National Gallery open their doors for free as well. An important cultural event that you should not miss is Museum Night, during which museums, galleries and various heritage sites stay open until later and in addition to a special programme usually offer free entry.

#9 Witness Changing guards at Prague Castle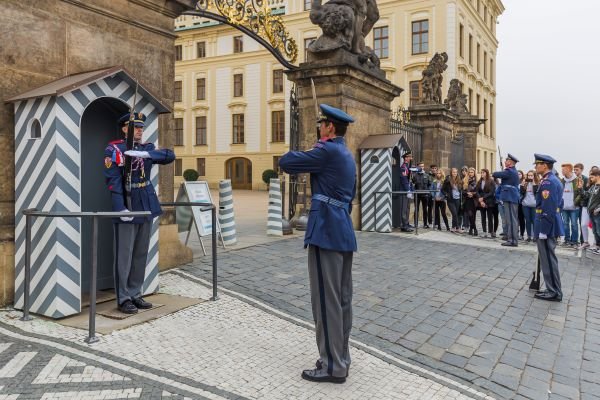 While there is a fee to enter the buildings of Prague Castle, the grounds of the Castle are free of charge. If you plan to go there, we highly recommend watching the Changing of the Guards ceremony, which takes place every day at noon. It probably won't be the top free attraction you experience in Prague, but it's an interesting spectacle.

#10 Walk down the Golden Lane (pssst, insider tip!)
Speaking of Prague Castle, don't miss the Golden Lane. Have you heard that you have to pay to enter this picturesque street? Yes, it's true. However, not many people know that if you go there in the evening or the low season, you can enjoy this Prague attraction for free. But pssst! Keep it to yourself so you can enjoy the magic of this place without the crowds. :)

#11 Discover New World, the most beautiful place in Prague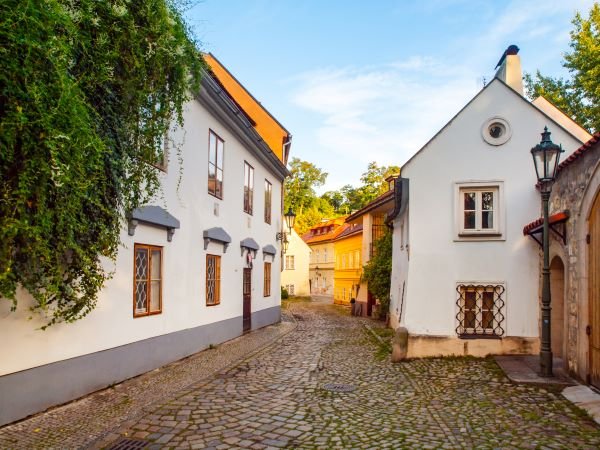 Following on from the previous tip, New World is another gem near Prague Castle that should not be missing from this overview of the best free things to do in Prague: the New World, a picturesque district with narrow winding streets and small houses where time seems to have stood still. Maybe that's why it's called one of the most beautiful places in Prague.

#12 Head for the sacred peace of Prague cemeteries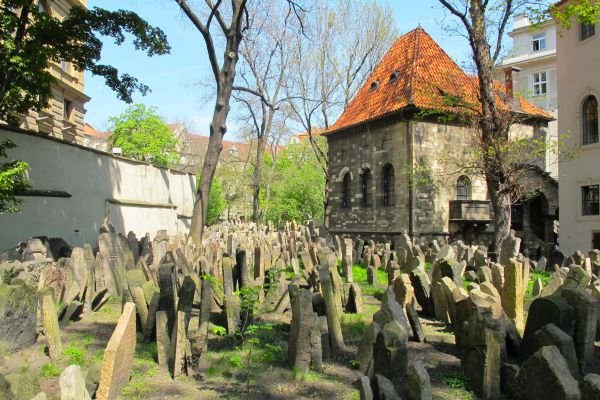 Wondering what kind of morbid advice is that? What would you see in a cemetery? Yes, we admit that this is a rather unusual tip on what to do in Prague for free, but some of the cemeteries in Prague, such as the Jewish, Vyšehrad or Olšany cemeteries, are popular with locals and tourists alike, whether for the tranquillity they offer or as part of an exploration of Czech history and culture. Moreover, the Jewish cemetery is considered to be among the 10 most interesting cemeteries in the world. Exploring the entire Jewish Quarter is well worth your time as well.

#13 Find tranquillity behind the walls of Vyšehrad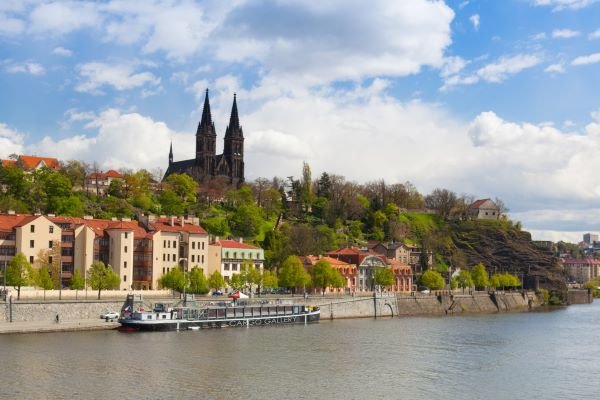 Vysehrad deserves to be mentioned here once more. Apart from the cemetery, where many important Czech personalities rest in peace, a visit to this landmark towering over the Vltava River also guarantees beautiful views of Prague and invites you to relax in the park or take a walk along the walls. Among the places to visit in Prague for free, this is one of our favourites. If you are interested in Czech history, then you should know that Vyšehrad is also associated with several Czech myths and legends.

#14 Play the piano or chess in the street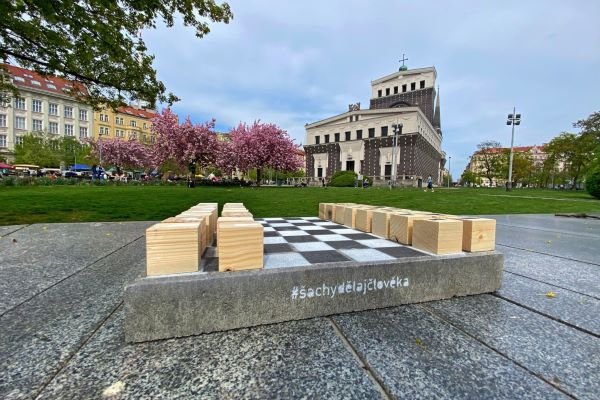 Source: piananaulici.cz
Play the piano or play a game of chess on the street? Why not! Ondřej Kobza has been trying to enliven public spaces with his projects since 2013 - and pianos on the street or Chess in the street are among them. Join in and make your exploration of the city more fun with these free activities in Prague.

#15 Soak up the atmosphere of Prague Nightlife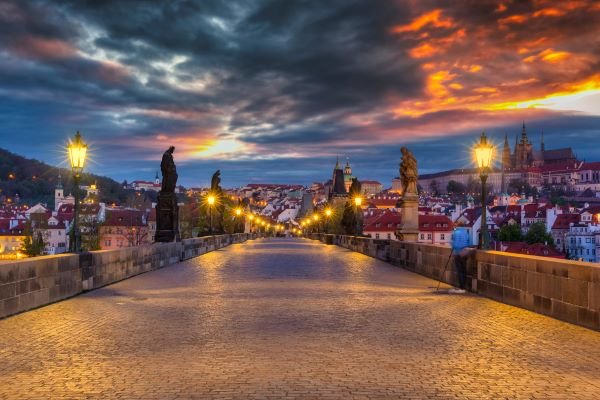 If you fall in love with Prague during the day and you are a night person, then believe us, you will love it just as much or even more after sunset. Whether you just take a stroll through the illuminated streets or head out to enjoy the vibrant nightlife into the wee hours. Bars, pubs, dance clubs - there's something for everyone. Just note - while soaking up the atmosphere of nightlife in Prague is free, a visit to any of the venues can easily get a little pricey.

#16 Enter the sacred ground of majestic churches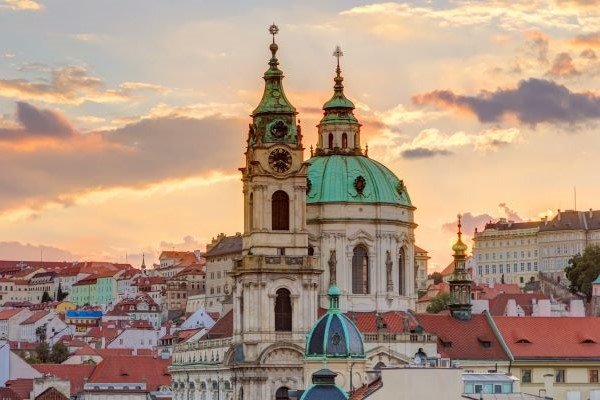 Prague is rich in churches and other religious buildings. Most of them you don't have to marvel at just from the outside, as they are open to the public for free. These include St. Nicholas Church, The Church of Our Lady Victorious with the world-famous Infant Jesus of Prague or, the Church of Our Lady Before Tyn. Actually, St. Vitus Cathedral can also be included among the free attractions in Prague, as part of it is open to visitors free of charge. Similar to museums, once a year there is a Night of Churches, allowing you to visit otherwise inaccessible places for free.

#17 Wake up your sporting spirit
If you're one of those people who can't give up exercise even when you're on vacation or travelling, we have good news for you. Many parks in Prague offer workout playgrounds where you can work out for free. Running through the awakening Prague is another of the great free things to do in Prague that we strongly recommend. Prague also hosts a number of running races, especially the Prague Half Marathon in April and the Prague International Marathon in May are known even abroad.

#18 Join Free Tours through Prague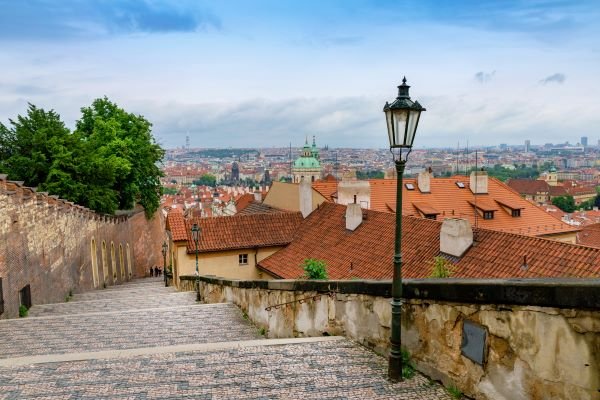 If you prefer a guided tour instead of wandering the streets of Prague on your own, you don't have to dig out your wallet right away. Even in Prague, some organisations offer free tours, and, moreover, with a local guide who enriches the interpretation with local insight. For visitors, this is undoubtedly one of the best free activities in Prague. And how much you pay for the tour is up to you.
Tip:
With the Prague CoolPass tourist card you can even have a free bus tour of the city!

#19 Enjoy free local events
Throughout the year, there are many cultural and social events that are free of charge, offer a great opportunity to experience the local culture and have a great time. To name a few, there are Christmas and Easter markets, various food festivals, a wine festival in autumn, the world-famous Signal Festival, events associated with national holidays or those organised by individual Prague districts. Google or Facebook certainly help you find out what's happening in Prague and what to do for free in Prague during your stay.

#20 Back to the classic: Admire famous Prague sights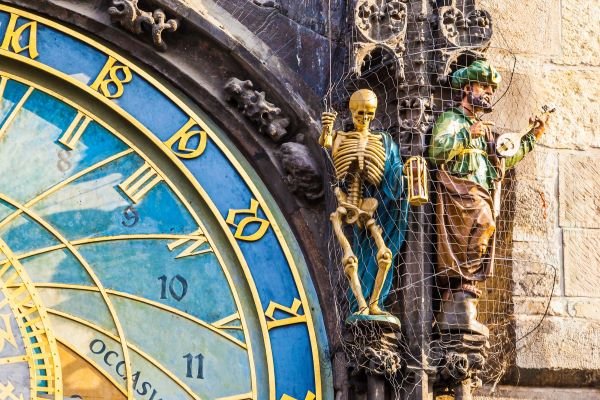 What would a list of free things to do in Prague be if we didn't at least mention the traditional (and thus mentioned everywhere) free activities in Prague? After all, it is a pleasant walk through Prague. So, start in the heart of Prague - Old Town Square and stop for a moment in front of the majestic Astronomical Clock. Cross the Charles Bridge into the streets of the Lesser Town and stop by the Wallenstein Palace with its beautiful garden before ascending to Prague's biggest landmark - the Prague Castle grounds. Back in the city centre, walk down the stunning Petřín Gardens, pass by the majestic National Theatre and end your walk on Wenceslas Square, once a witness to many important events, today a vibrant cultural and social hub.

Conclusion
All these activities allow you to experience the beauty of Prague without breaking the bank. Want more tips on what to do in Prague? Well, get inspired by TOP 50+ Best things to do in Prague.
Interesting