Medieval Dinner in Prague
A review: Experience medieval Prague with great dinner and unlimited drinks
Do you want to spice up your visit to Prague with an unusual experience? Then we have a tip for you that stands out not only for its uniqueness, but also for its combination with delicious food.
We had a chance to try one of the most popular experiences offered by the GetYourGuide - the Medieval dinner show in Prague, incl. unlimited drinks. And since we were so excited about it and it's something that you don't just have a chance to experience everywhere, we decided to share our impressions with you.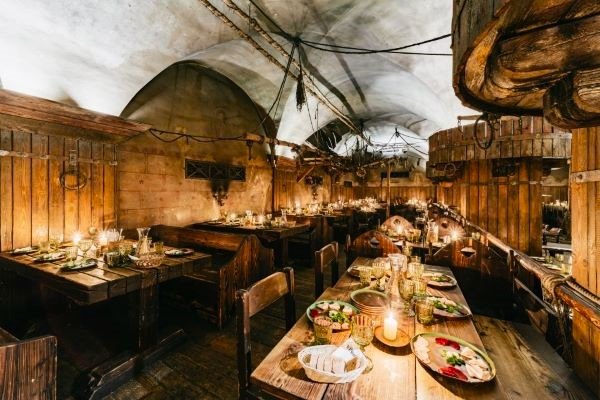 Source: GetYourGuide.com


General information about the medieval dinner in Prague
The feast takes place in the Prague medieval restaurant U Pavouka pub, located right in the centre (Celetná 595/17, Prague 1), so it´s very accessible.
As for the time, usually there are 2 options available, we chose a later one with dinner starting before 8pm. However, there is also an option with a later afternoon start (before 5 pm), which can be fine if you want to have dinner with the kids, for example.
The whole medieval dining experience lasts from 2 to 3 hours, depending on the type of dinner (3 or 5 courses). In any case, we recommend setting aside more time for it - we do not exclude that you will not want to end the evening after the show. We also recommend getting to the pub a little earlier to catch the best seats, where you will have a nice view of the whole show.
The great thing is that you can enjoy this medieval dinner in Prague in two, with your family or even with a larger group of friends. There is no limit to the number of participants! Just be aware that others may attend the dinner, it is not a completely private event.

What can you look forward to?
First and foremost, an experience that makes you feel like you've actually been transported a few centuries into the past to a medieval tavern.
Unique medieval atmosphere
As soon as you enter the pub, you will feel the authentic medieval atmosphere. Don't expect any posh setting, but solid oak tables, cool-looking stone walls, various historical objects hanging from the ceiling and lots of candles. Everything is worked out to the last detail - and that applies to the medieval show itself and the menu as well.
Delicious medieval dinner with unlimited drinks
We have opted for the 5-course menu which includes a cold starter, soup, warm appetizer, main course and dessert. If you only chose the 3-course, you would get the soup, main course and dessert. Regardless of which you choose, both menus include unlimited beer, wine and soft drinks. Believe us, there's plenty to wash it down with. The food portions were generous and filling, as befits a medieval meal (by the way, the pork knuckle tastes really good here!).
Amazing medieval show
While you're satisfying your taste buds, your other senses won't be left behind. The highlight of the evening was undoubtedly the medieval show. The performers were talented and entertaining, with jugglers, swordsmen and belly dancers taking turns on stage. There was also fire play and even snakes. All this accompanied by medieval (live!) music. The performers were great at drawing the audience into the action, so don't be surprised if they ask you to dance.
Great service
What we also have to highlight is the very attentive staff who made sure we had everything we needed to enjoy the evening to the fullest (including constantly full glasses :) ).
In other words, the 2.5 hours of the show passed by in a blink of an eye! It's a pity that after the show you have to leave the pub for other guests who have come to experience a piece of medieval Prague. One would have lasted much longer!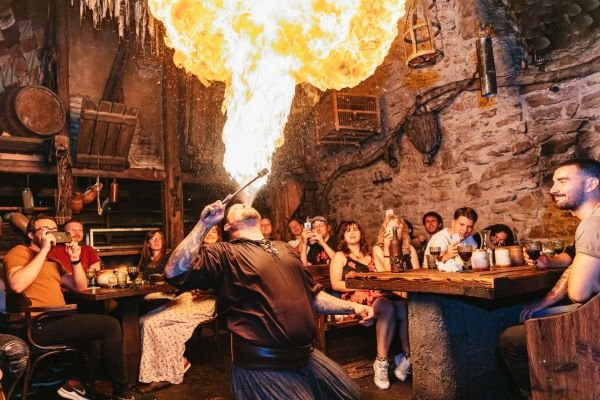 Source: GetYourGuide.com

How to book this unique medieval dinner in Prague
Go to the website GetYourGuide
Select participants and date you would like to visit the medieval restaurant
Choose from the medieval dinners available that day: first, whether you are interested in a 3-course or 5-course menu, and then the type of menu (pork, fish, vegan, gluten-free etc.)
Confirm your reservation and then just look forward to your unforgettable adventure!
Or simply USE THE FORM ABOVE.

Why is this medieval restaurant in Prague worth a visit, what did we like?
With booking the Prague medieval banquet, you´ll get:
an unconventional experience you will remember
experience that is perfect for everyone: couples, families or groups of friends
a combination of good food and fun
the possibility to choose the menu, not only the number of courses, but also the type of food (even vegetarians will not go hungry and there's a special menu for children as well)
friendly attentive staff
location right in the city centre
In terms of booking process:
easy and flexible booking with option to pay later
if something happens and you will be forced to change your plans, there's a free cancellation with full refund up to 24 hours in advance

And what about cons? Are there any? (plus recommendation)
One of the downsides (if we can even call it a downside) is the fact that this experience is so popular that it sells out quickly. :) So early booking is recommended. As we already mentioned, it also pays to arrive a little earlier than the actual booking time - because you know, "first come - first served" (and get better seats). Some places are a little bit better than others when it comes to watching the show.
For some, less privacy may also be a disadvantage. You'll likely be sitting with other guests at the table, and if you want to chat while you dining, it's better to leave that for another time. After all, you would be depriving yourself of the opportunity to enjoy the experience to the fullest!
And one last note - it is not possible to stay in the pub after the medieval show is over, as there are other guests waiting for another medieval show.
However, all these are just little things that should not deter you from trying this medieval dining experience in Prague.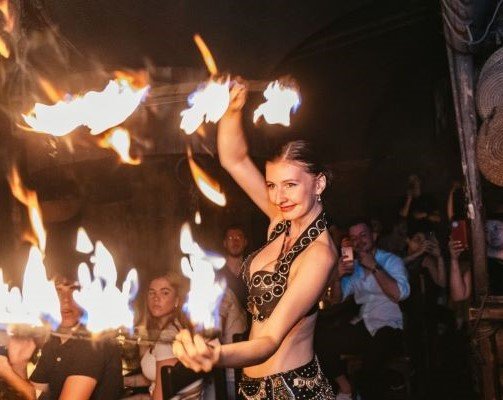 Source: GetYourGuide.com

SUMMARY
Overall, we had a great time and this experience is definitely worth trying. The price is appropriate for what you get for it. And if our opinion is not enough for you, just take a look at the reviews of thousands of participants who have attended this show.
Interesting