Day trip to Kutná Hora from Prague
A trip review: Get to know the best of Kutná Hora - the bone church, the cathedral and more

Kutná Hora is a UNESCO World Heritage Site and is thus a popular destination for Czech and foreign visitors. Moreover, it takes about an hour to get to Kutná Hora from Prague, making it an ideal destination for a day trip from Prague. Whether travelling by train or bus, the journey itself provides an opportunity to appreciate the picturesque Czech countryside, and with many organized tours available, transportation and guiding are taken care of, ensuring a hassle-free experience.
There are plenty of offers for a trip to Kutná Hora, including a visit to an ossuary and church. But which one to choose? We browsed the range of tours offered at portal GetYourGuide.com and chose one (specifically Kutná Hora and Bone Church Excursion) that we tried ourselves. And the result? Just read our impressions.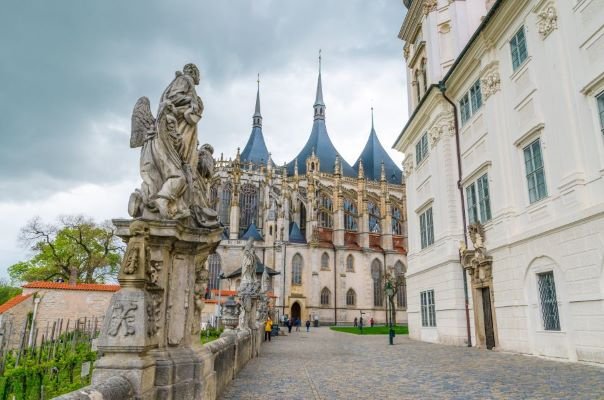 Source: GetYourGuide.com
General information about the day trip from Prague to Kutná Hora
This trip to Kutná Hora from Prague is almost a full day. You will leave Prague in the morning (but don't worry, you won't have to wake up early), expect to return in the early evening.
What's more, not only do you not have to get up early, but the minibus will pick you up right at the hotel.
It is a guided tour, so there is no need to study any tourist brochures in advance.
And what is definitely worth mentioning - the trip includes not only a visit to all the important places in Kutná Hora, but also a delicious lunch.

What can you look forward to in Kutná Hora? Ossuary, church and other unique sights
The trip starts with a comfortable bus ride from Prague to Kutná Hora, offering picturesque views of the Czech countryside. As already mentioned, an air-conditioned minibus will pick you up directly at the accommodation, so there is no need to search for a way to get to the departure point. The journey to Kutná Hora takes about an hour and along the way the guide provides you with some interesting information about Kutná Hora's history as a prominent silver mining town.
Upon arrival, the tour begins with a guided tour in the famous Sedlec Ossuary near Kutná Hora. It´s also known as the Bone Church and renowned for its intricate decorations made of thousands of human bones arranged in striking formations. Really fascinating and eerie at the same time! (why and how it was created, we won't reveal now, you'll find out during the tour :) )
After that, you move to Kutná Hora and explore its historic centre and most important sights. Among them, the impressive St. Barbara´s Cathedral, a stunning gothic masterpiece, or the former royal mint were not to be missed.
And because after so much experience one gets hungry, the trip ends with a visit to an old Bohemian restaurant where you can enjoy delicious traditional Czech lunch.
Note: The itinerary may change slightly depending on circumstances, e.g. the order of activities (first the city centre, then a visit to the ossuary etc.)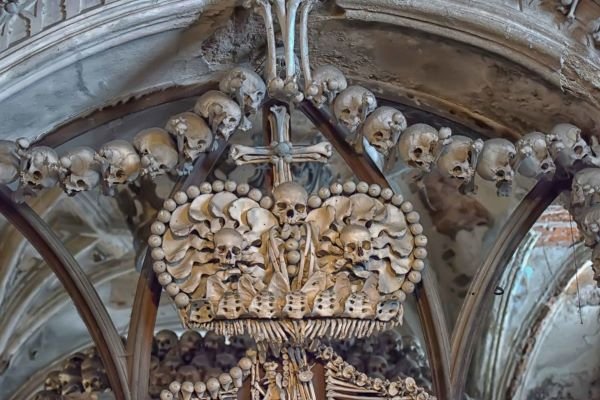 Source: GetYourGuide.com

How to book the tour to Kutná Hora from Prague
To make a reservation for the ´Kutná Hora & Bone Church Excursion with Lunch´ just follow these steps:
Go to the trip website GetYourGuide.com
Select the number and type of participants (adults / children / infant), choose the date you want to book and click on the button Check availability
Add to cart, Go to cart and proceed to Checkout.
Enter your personal details, payment information and confirm booking. All essential information should be sent to your email.
Or simply USE THE FORM ABOVE.

Why is this excursion worth it, what did we like?
To miss a visit to Kutná Hora or bone church would be a pity in itself. But what did we like about this particular trip booked via GetYourGuide?
Comfortable transportation from Prague to Kutná Hora and back
Smaller group of participants, no mass tour
Knowledgeable and friendly guide providing interesting insights into the history and culture of Kutná Hora
Kutná Hora itself with its architecture and rich history
Entry to St. Barbara Cathedral and Ossuary, guided tours and tasty lunch in the price included
Overall well-organized and informative guided tour
Good value for money
In terms of booking process:
easy and flexible booking with option to pay later
if something happens and you will be forced to change your plans, there's a free cancellation with full refund up to 24 hours in advance

And what about possible "downsides"? Or anything good to know?
Limited availability, so advance booking is recommended.
Limited time: It is an organized trip with a given program. For those who want to spend more time exploring Kutná Hora on their own the tour may feel a little bit rushed.
Potential crowds during peak tourist seasons, requiring patience
The trip is also suitable for children, but it is necessary to consider whether a visit to the ossuary will not be an unpleasant experience for them (or in general - for anybody who is sensitive to human remains)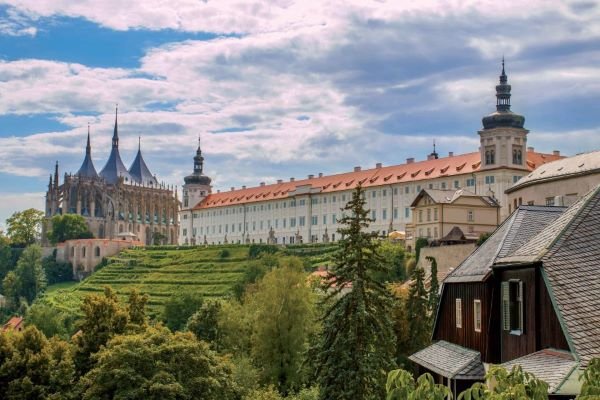 Source: GetYourGuide.com

SUMMARY
Kutná Hora with its ossuary, church or the town itself is a really nice historical place. The
trip we decided to try
was a good choice and overall we spent a very enjoyable day. If you are looking for a well-organized and informative day trip to Kutná Hora, while enjoying the convenience of organized transportation and expert guidance, go for it.
Interesting