Beer Spa in Prague with Unlimited Beer
A review: When beer doesn't only taste great, or what it's like to bathe in beer

If you're looking for an unconventional way to relax and unwind after a day of sightseeing in Prague, then we have a tip for you: a beer spa in Prague, moreover with unlimited beer! The concept of bathing in beer may sound a bit strange at first, but believe it or not, beer - as a Czech national treasure - is not only great for quenching your thirst, but such a bath in beer also has beneficial effects.
Still in doubt? Then read our review of a visit to the Bernard Beer Spa in Prague, one of the most popular and top-rated experiences on trip portal GetYourGuide.com.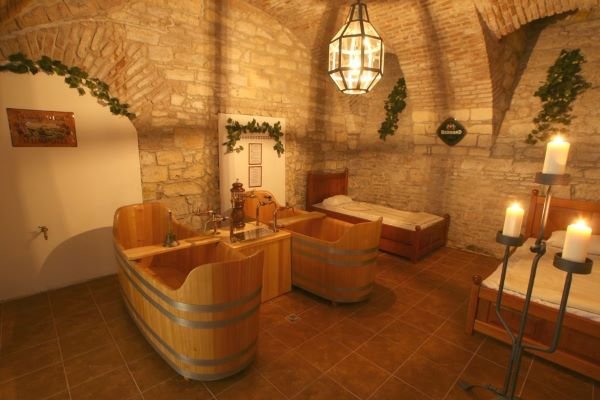 Source: GetYourGuide.com
Some basic information about Bernard Beer Bath in Prague
Beer spa Bernard is located right in the centre of Prague on Stepanska Street, a short walk from Wenceslas Square. Therefore, you can easily get there by metro or tram. The beer spa is part of the Majestic Plaza Hotel, so don't be surprised if you don't see any Bernard Beer Spa signs right off the street.
The whole beer treatment lasts 1-1.5 hours, depending on the chosen option (either just a bath or including a massage). For the ultimate experience, we definitely recommend the option with massage.
At the time booked the beer spa will be for you only, it is a private experience for an individual, couple or group of friends, so you don't have to worry about sharing the bath with others. However, there is a limit of 6 people per booking.
Leave your towel, bathrobe or slippers at home, everything you will need will be provided on site. As for swimwear - it's up to you whether you want to wear it, but as this is a private experience, it's not necessary.

What can you look forward to, how does the beer bath in Bernard beer spa work?
The experience begins with a warm welcome by the staff, who will lead you to a room with special large wooden tubs and beds for relaxation.
Wondering if the tubs are actually filled with beer? That's exactly what we were wondering. And as we learned - yes and no. After all, bathing in raw beer, or alcohol in general, would not be very good for the body. So it is a special mixture containing hops, yeast and other natural substances that are used to make beer and have a beneficial effect on the body in the form of a bath. On the other hand, for example, barley is not used, so there is no need to worry about allergic reactions.
In fact, we were a little skeptical ourselves if this was not just some kind of marketing ploy. However, after soaking in the pleasantly warm beer bath, you can actually feel your muscles relaxing and the bath has an overall soothing effect. Or is it the beer, which you can sip unlimited amounts of throughout the treatment? Who knows. :) There are beer taps right next to the tubs, so you can tap as much beer as you like while you soak. And the beer tastes really great!
In a relaxed mood, all you have to do after the beer bath is move to a heated bed where you can further relax (and drink beer, of course). We also booked a massage on our visit - and it was a great decision. It was perfect!
To make sure you don't forget this experience, you'll also get a gift to take home - a special bottle of Bernard beer with a historical seal.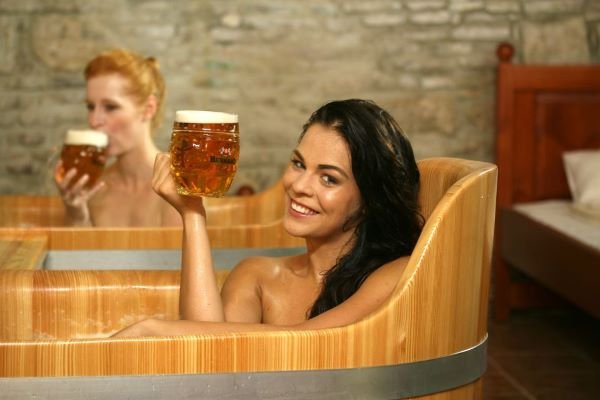 Source: GetYourGuide.com

How to book Beer Bath in Prague
To make a reservation for the Bernard Beer spa in Prague experience, just follow these steps:
Go to the website GetYourGuide.com
Select the number of participants, choose the date you want to book and click on the button Check availability
Choose one of the options (only beer spa / with massage / private tub for everyone) and then the exact time
Add to cart.
Enter your personal details, payment information and confirm booking. All essential information should be sent to your email.
Or simply USE THE FORM ABOVE.

Why is this beer spa in Prague worth a try, what did we like?
There is no doubt that a beer bath in the heart of Prague is a truly original experience. What else can we point out?
a great way to relax combined with fun and beneficial effects on the body
an experience perfect for everyone: a single person, couples as well as groups of friends
maximum privacy (and therefore no reason for shyness)
attentive and professional staff
clean and well-maintained facilities
nice parting gift
and of course the unlimited beer consumption!
In terms of booking process:
easy and flexible booking with option to pay later
if something happens and you will be forced to change your plans, there's a free cancellation with full refund up to 24 hours in advance

And what about cons? Or anything else good to know about beer spa?
Just a few things we would like to mention:
You don't have to be a huge beer lover to try a beer spa. However, if you not only don't like the taste of beer, but don't like beer in general (including, for example, the smell), this experience probably won't be right for you.
Might not be suitable for people with certain medical conditions as well (e.g. allergies, skin sensitivities, etc.)
Minors accompanied by an adult can participate, but in general, it is not directly a family-focused activity
Limited availability, so advance booking is recommended.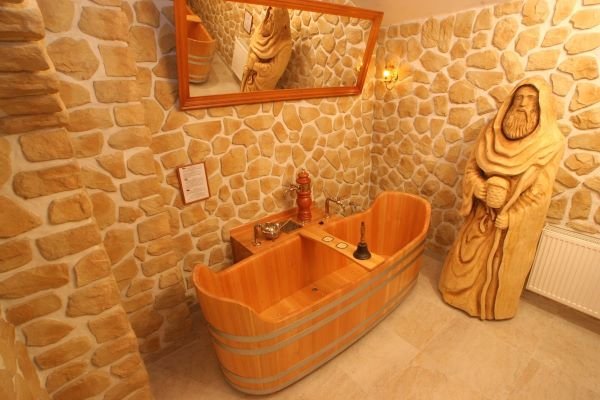 Source: Bernard Beer spa

SUMMARY
When one says chill, friends and beer, most people think of sitting in a beer garden and sipping beer while chatting with friends. Sounds great, doesn't it? But if you want to add a touch of uniqueness to it, try a beer spa during your visit to Prague. Our experience with Bernard beer spa in Prague is very positive and we dare to say that it is among the best beer spas in Prague. And unlimited beer consumption? That's just the icing on the cake that made the experience even more enjoyable.
Interesting