Public Transport in Prague
Prague public transport consists of:
3 underground lines A, B and C
24 tram lines (1-26, lines 19 and 23 were cancelled) and 8 night lines (91-99)
Bus lines for day (100-250) and night (901-915) service for city, suburban and out-of-town travel (300-700), school buses, and buses for the disabled
A funicular leading to Petřín observation tower
A chairlift in the Prague ZOO
Several railway lines
6 ferries
How to find the right connection
All lines listed above are well-connected so travellers will reach their final destination as quickly as possible and avoid waiting. An interactive map of Prague transport or mobile and Internet applications will help to determine the right connection. Also, it is possible to print the timetables.
The best Internet sources for finding transport connections are: The Prague Public Transport Company webpages and a timetable webpage IDOS. Mobile transport applications designed for the Android system are Jízdní řády IDOS, DPP INFO, Pubtran or for the iOS system it is IDOS do kapsy. The advantage of using these applications is the ability to find the proper connection at any time or from any location.
Fare possibilities and prices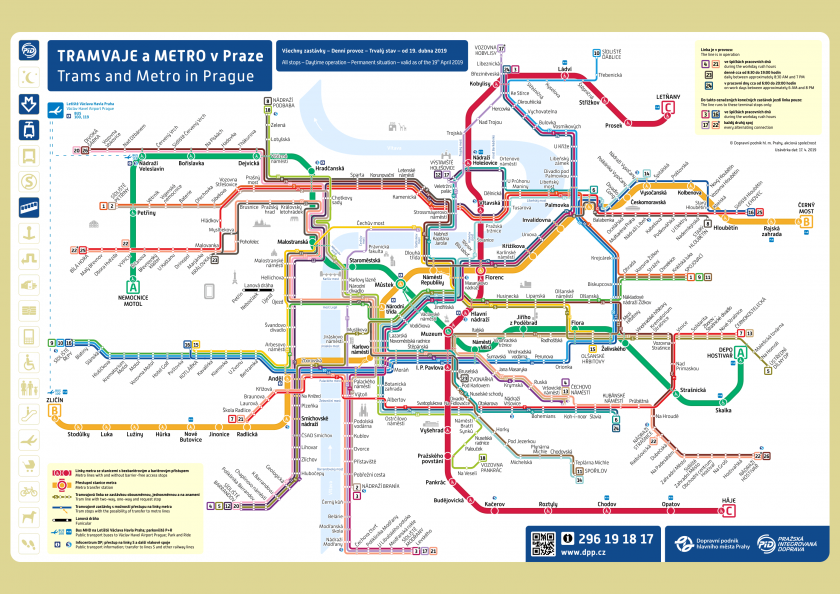 The city of Prague has two principal zones – P and 0. Zone P applies to metro, trams, buses (lines 100-250 and night lines 901-915), the Petřín funicular, ferries and selected railway sections. The centre of Prague and its surroundings with renowned historical monuments belongs to Zone P and requires a regular ticket. (see table below).
Zone 0 includes bus lines from the peripheral areas (300-399 and 951-620) along with selected railway sections. A special ticket is only necessary for those travelling to uptown or out-of-town areas. There is no need for concern regarding transport zones for travellers who wish to remain within the vicinity of touristic destinations.
Fares are classified as single fare or pre-paid time tickets. Single fare tickets can be used for the Prague metro, trams, buses, funiculars, and ferries.
The single-fare ticket is available in four variations. A whole-day or a 3-day ticket is ideal for tourists who wish to spend a weekend in Prague.
| | | |
| --- | --- | --- |
| Ticket type | Adult | Child/Senior |
| Regular (90 min.) | 32 CZK | 16 CZK |
| Short-term (30 min.) | 24 CZK | 12 CZK |
| 1 day (24 hours) | 110 CZK | 55 CZK |
| 3 days (72 hours) | 310 CZK | Not available |
Note.: Children under the age of 6 and adults over 70 may travel free of charge.
Passengers who travel daily find pre-paid time tickets less expensive, more convenient, and time-saving than the purchase of a regular ticket. A short pre-paid time ticket is valid for 30 days, and the long ticket is valid for one year.
| | | | |
| --- | --- | --- | --- |
| Ticket type | Adult | Child/Student | Senior |
| Monthly (30-day) | 550 CZK | 130 CZK | 130 CZK |
| Quarterly (90-day) | 1 480 CZK | 360 CZK | 360 CZK |
| 5-monthly (150-day) | 2 450 CZK | Not available | Not available |
| 1-year (365-days) | 3 650 CZK | 1280 CZK | 1280 CZK |
Pre-paid time tickets known as "transferable" are available, require no personal information, and offer a variable starting date.
| | |
| --- | --- |
| Monthly (30-day) | 670 CZK |
| Quarterly (90-day) | 1 880 CZK |
| 1-year (365-days) | 6 100 CZK |
How and where to find public transport tickets
Tickets can be purchased at: all metro stations, some surface transportation stations, ticket automats, information centres of DPP, and in some tobacco shops. Credit cards are usually accepted.
Passengers can purchase tickets from tram and bus drivers. In this case a single ticket costs 40 CZK for adults and 20 CZK for children and seniors.
As an additional option, an SMS ticket can be paid for directly from a mobile phone. The process requires a text message that reads: "DPT" and the desired ticket amount (DPT24, DPT32, DPT110 or DPT310) to a number 90206. The buyer will receive a confirmation message which serves as a transport ticket.
Since July 2013, travellers can also use a special mobile application called "Sejf" (Safe), which can be easily downloaded and charged with a credit as necessary. However, only single tickets can be purchased through this application, it does not work for pre-paid time tickets. Sejf is an ideal choice for passengers who use the Prague public transport on an irregular basis.
"Lítačka" for comfortable travelling in Prague
In March 2016, the Opencard was replaced by a new travelling card called Lítačka. Travellers with an Opencard can still use it until the expiration date. However, no new Opencards will be issued. The new Lítačka will replace a reader's ticket to the Municipal Library of Prague.
Lítačka should not be mistaken for a pre-paid time ticket. It is an electronic ticket which is issued by the Municipal Authority in the centre of Prague on Jungmannova Street. The price for issuing Lítačka is between 50 CZK and 200 CZK for an express service. All types of tickets can be uploaded onto Lítačka and are available for purchase in DPP branches or on the Prague Public Transport Company e-shop.
Prague Card: Prague passport for tourists
Prague Visitor Pass is designed mainly for tourists who wish to travel in Prague easily and visit the city's renowned historical monuments. The Card offers the choice of a valid 2-day, 3-day or 4-day option. A less expensive version is available for children and students only. The Prague Card allows tourists to use all lines without buying additional tickets.
Prague Card also includes:
Airport Express (bus to the airport)
2-hour sightseeing bus tours
Entrance to the Prague Castle and visit to the Jewish Museum
Lower-prices ticket for more than 50 objects
Discounts for excursions, cruises, concerts and restaurants
Prague Card Guide free of charge
Public Transport in Prague
MHD, the public transport system plays a significant role not only for the citizens but also for visitors. Regardless of the desired destination, the service is a practical, convenient way to reach any location within the capital.
There are currently 17 carriers in Prague, and the largest is "Dopravní podnik hl.m.Prahy, a.s." (The Prague Public Transport Company, a.s.) The organisation and operation of the system is supervised by "Regionální organizátor Pražské integrované dopravy" (ROPID).
Additional information about the Prague public transport can be found at:
The Prague Public Transport Company official website
What is the Public City Transport ("MHD")
"MHD" is an abbreviation for "Městská hromadná doprava" (meaning Public City Transport) which is also known as Prague City Transport, Prague Transportation System, Prague Local Transport or Prague Integrated Transport.
All these names refer to an elaborated system of public transport lines. Their primary purpose is to provide transport operations in the city of Prague and its surroundings. Buses, trams, metro and trains are the main methods of transport in Prague. There are also funiculars and six ferries leading across the Vltava River.
Interesting