Best dumplings in Prague
Tips from locals
Dumplings are an inseparable part of Czech cuisine. Whether savoury or sweet, served as a side dish to typical Czech dishes, dessert or even as a stand-alone dish. They are made of potato, bread, yeast or curd cheese dough, filled with meat, fruit, and sometimes even poppy seeds. Recipes vary from region to region, and it's the variety of serving that makes dumplings great. In this article you will find tips on places where we, as locals, like to eat dumplings in Prague.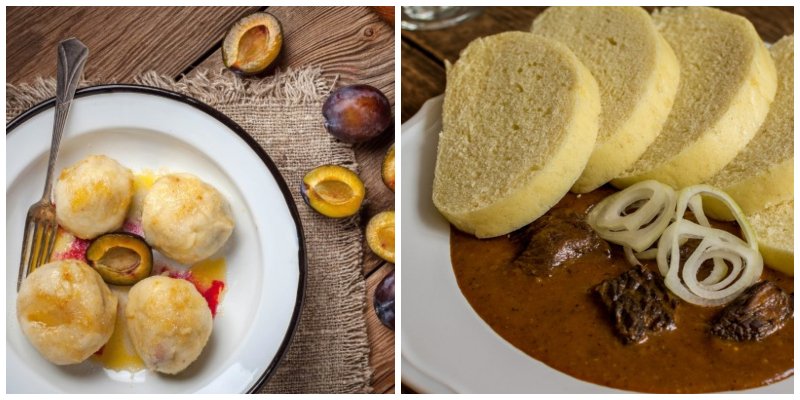 A few words about dumplings in the Czech cuisine…
In the summer season, fruit dumplings in particular are very popular, and not just with children. Although they are more like a dessert, in Czech households they are served for lunch as a full meal. They are usually filled with plums, strawberries, apricots or blueberries, sprinkled with sugar, grated curd cheese and topped with melted butter. Gourmets often add cocoa or cinnamon on top. Some love them sprinkled with breadcrumbs, gingerbread, poppy seeds or topped with sour cream. Well, as we wrote, there are countless ways of preparing and serving them.
In some households, the dumplings are not filled with fruit, but only topped with fruit sauce. This sauce is called 'žahour'. It is typically made from blueberries, but it can also be made from any other fruit. And speaking of blueberries - the best blueberry dumplings are usually served in mountain cottages. So if you make a trip from Prague to the Giant Mountains, for example, we definitely recommend trying them!
As for "classic" dumplings, there are also countless types. Potato dumplings, bread dumplings, speck dumplings or so-called "karlovarske" or "chlupate" dumplings.. and many more! They are usually served as a side dish with meat or sauces. However, stuffed dumplings, for example with smoked meat, are also popular.

And where to go for great (not only fruit) dumplings in Prague?
Bistro Knedlín
Address: Národní 24, Praha 1
GPS: 50.08232922424663, 14.41899121403279
https://knedlin.cz/
This bistro is a dumpling paradise. Over 25 types of fresh potato dumplings are prepared daily, with a choice of traditional and completely original variations. Among the sweet ones, you will find the classic blueberry, plum or apricot dumplings, but also pistachio with raspberries, caramel or coconut with forest fruit. Among the savoury options, the more traditional ones are more favourite, such as the smoked cabbage dumpling or the goulash dumpling. But for those who like to try new things, how about a shrimp dumpling, a dumpling with burrito flavour or ratatouille? The menu also changes regularly according to the season. The environment of the bistro is modern and very pleasant, however, if you are in a hurry, they will also pack your dumplings to go in a stylish box.
Admittedly, it's a slightly upgraded version of traditional Czech dumplings in Prague, but the idea of spicing up a simple Czech meal has worked well and this bistro is definitely worth a visit!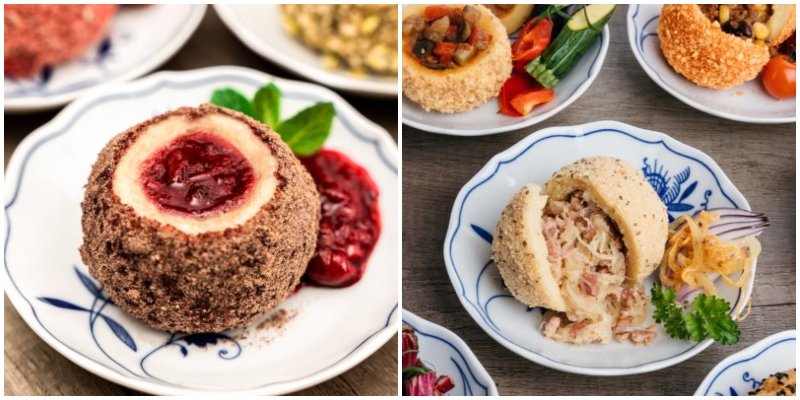 Source: facebook.com/knedlin

Café Savoy
Address: Vítězná 5, Praha 5
GPS: 50.08110987404706, 14.407306427526464
https://cafesavoy.ambi.cz/
In Savoy, a member of the Ambiente restaurant chain, everything from eggs Benedict or steak tartare to schnitzel is delicious. However, this café and restaurant in one has also gained fame for its fruit dumplings, one of the best in Prague. The dumplings here are made from cottage cheese dough, the filling changing seasonally. They are usually served with grated curd cheese, melted butter and garnished with fresh fruit. And believe me, they may taste even better than dumplings from your mother's or grandmother's (if she was Czech, of course).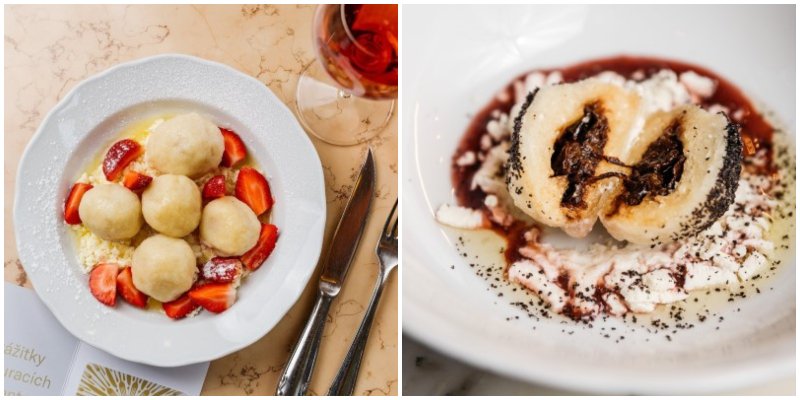 Source: facebook.com/ambientecafesavoy

Krystal Bistro
Address: Sokolovská 101, Praha 8
GPS: 50.09476575204226, 14.45319581218529
https://www.krystal-bistro.cz/
You probably wouldn't expect to be invited to a Czech-French restaurant for some of the best fruit dumplings in Prague. But they really know how to make them here! You can have it as a dessert or 3 pieces as a main dish. The filling varies according to the season, but you always get them with a delicious sauce (called ´žahour´), curd cheese and melted butter.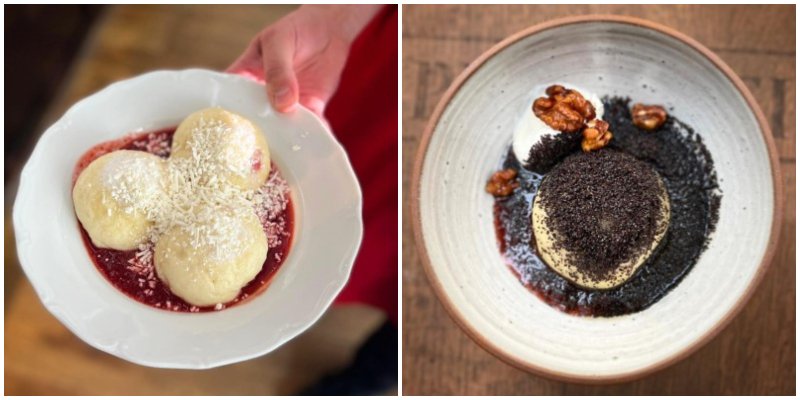 Source: facebook.com/KrystalBistro
Tip: During the summer, i.e. fruit season, in Prague dumplings are usually on the menu of more restaurants. So if the tips mentioned here are not on your way, with a bit of luck you will find fruit dumplings in Prague in another restaurant as well. However, we do not guarantee the taste!

Fancy fruit dumplings or rather traditional with meat? Try both!
Vinohradský Parlament
Address: Korunní 1, Praha 2
GPS: 50.075560524182606, 14.438318261848034
https://www.vinohradskyparlament.cz/
This restaurant in Prague knows how Czechs love dumplings. So when they thought of something to differentiate themselves, the result was the opening of a ´knedlíkárna´, a special part of the restaurant, where dumplings are prepared exclusively in all kinds of ways. Today, Vinohradsky Parlament is famous for its sweet and savoury dumplings. There are always several types of dumplings to choose from, not just the classic potato, bread or yeast dumplings, filled with, for example, beef, duck or venison. The menu changes regularly. If you don't know what to order, try the "Eat all you can dumplings" option, where for one price you get 200 grams of meat, plus a sauce of your choice and unlimited dumplings of different types.
Regarding sweet dumplings, there are usually two options on the menu - either made from cottage cheese dough or yeast dough. The filling again varies according to the season - with plums, pears and nougat, raspberries and white chocolate...and always flavours that will shoot you into dumpling heaven. In addition, on the first Wednesday of every month, the menu is topped off with a specialty - a giant dumpling called ´blboun´with unusual fillings.
Thanks to the open kitchen, guests also have the opportunity to watch the dumplings being prepared literally live. The savoury options are perfectly matched with Pilsen beer.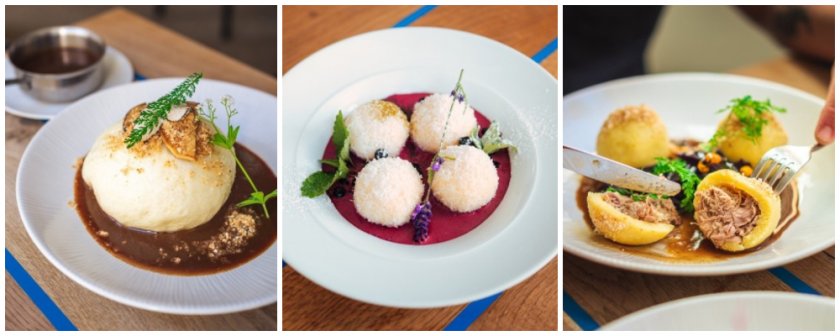 Source: facebook.com/restauracevinohradskyparlament

Dumplings in Prague as a side dish
You can get classic bread or potato dumplings served as a side dish with meat or sauces in practically every restaurant in Prague focused on typical Czech food.
For tasty dumplings in Prague you can visit for example:
U Pinkasů
Lokál (more branches)
Kolkovna (more branches)
U Medvídků
U Kroka
Havelská koruna
....and there are many more.
Interesting