Best ice cream in Prague
TOP 6+3 tips for ice cream in Prague you must try
What could be better than enjoying a good portion of ice cream during warm summer days? Indulging in this deliciousness all year round! In our opinion, ice cream is suitable for all seasons. Especially the ones made with quality ingredients. So where to go if you want to make your wanderings through the streets of Prague more pleasant with this refreshing treat? Based on local experience and reviews we have prepared a list of the best Prague ice cream spots, which your taste buds should definitely not be deprived of! Are you looking for some vegan ice cream in Prague? No worries, we've thought about that too when choosing the best ice cream in Prague.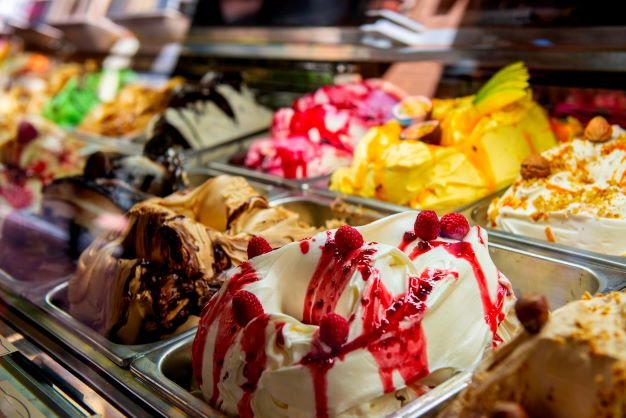 Puro Gelato Prague
Address: 4 branches
Prague 1: Výtoň - near Náplavka, Na Hrobci 1, GPS: 50.06827, 14.41505
Prague 2: Vinohrady - Rybalkova 29, GPS: 50.07079, 14.44533
Prague 6: Dejvice - Vítězné náměstí 3, GPS: 50.09956, 14.39593
Prague 8: Karlín - Palác Karlín, Thámova 13, GPS: 50.09245, 14.45162
https://www.purogelato.cz
Many people consider this ice cream shop to have the best gelato in Prague. And no wonder. Not only is it made under the supervision of Italian pastry chef Giuseppe, but the bistro's founder even learned the gelato-making craft at the prestigious University of Bologna. Puro Gelato's popularity is also helped by its ideal location by Náplavka.
There are unusual flavours to choose from, which change daily, such as poppy seed, basil, cucumber mojito or black ice cream completely without sugar. Vegan ice cream is also on offer.
Tip: Visit branch on Výtoň and eat your gelato on the nearby Náplavka by the Vltava River, then take a walk to Vyšehrad.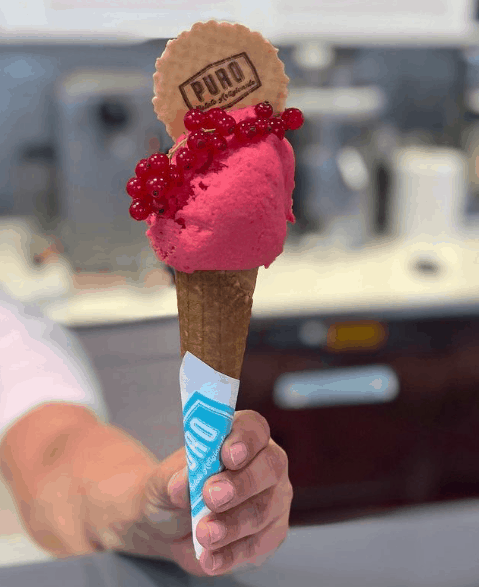 Source: instagram.com/purogelatopraha/

Angelato
Address: 4 branches
Prague 1: Můstek - Rytířská 27, GPS: 50.08481, 14.42175
Prague 1: Újezd - Újezd 24, GPS: 50.0821, 14.40466
Prague 6: Břevnov - Bělohorská 50, GPS: 50.08478, 14.37601
Prague 6: Dejvice - Dejvická 24, GPS: 50.0981, 14.40098
https://angelato.cz/
Ice cream heaven? That is Angelato! This ice-cream is made in the original artisanal way not by an Italian, but by a Macedonian Zlatko Kebakoski, but it does not detract from the quality! The secret of one of the best ice cream Prague is fresh ingredients and the art of making gelato even from non-traditional ingredients. The menu includes such flavors as jasmine rice, parmesan, gingerbread, avocado, pumpkin, etc. The offer also varies according to the season. For example, during the asparagus harvest season, you can try asparagus ice cream at Angelato. With these unique flavours, be prepared for long queues. But trust us, this experience is worth it!
Tip: We recommend you visit the Angelato branch in Újezd pod Petřínem and combine it with a romantic walk through Prague. Go for a stroll to Kampa, Charles Bridge or Petřín lookout tower.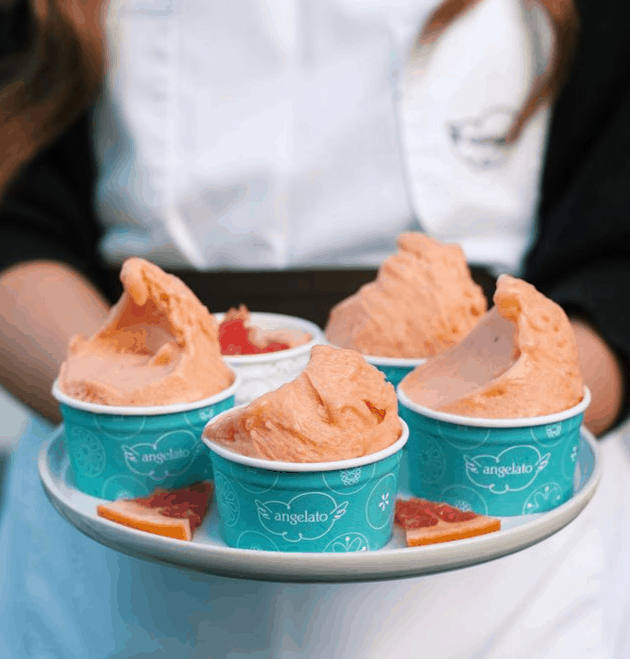 Source: instagram.com/angelato_official/

Creme de la Creme
address: 5 branches
Prague 1: Národní 23, Prague 1, GPS: 50.08214, 14.41777
Prague 1: Husova 12, GPS: 50.0858, 14.41826
Prague 2: Francouzská 21, GPS: 50.07352, 14.44118
Prague 6: Pod Kaštany 2, GPS: 50.09803, 14.40538
Prague 10: Průběžná 58, GPS: 50.06662, 14.49608
https://www.cremedelacreme.cz
If you ask someone where is the best ice cream in Prague and the answer is not Angelato, you can be sure that they will say Creme de la Creme, whose most famous branch is a short walk from the National Theatre. Aside from its favourable address, Creme de la Creme offers perhaps the largest variety of flavours, with salted peanut being one of the most famous. Vegans can choose not only from fruit sorbets, but also a range of non-fruit ice creams based on plant milks and natural chicory fibre. The advantage of this ice cream shop is the long opening hours, you can have ice cream even at 10 pm. Do you think that there's nothing like having enough ice cream (and we think the same!)? Just order an all-you-can-eat bottomless ice cream cup.
Tip: The Creme de la Creme National ice cream parlour is in the city centre, so you can walk around the Vltava River or pop into the National Theatre for a bit of culture.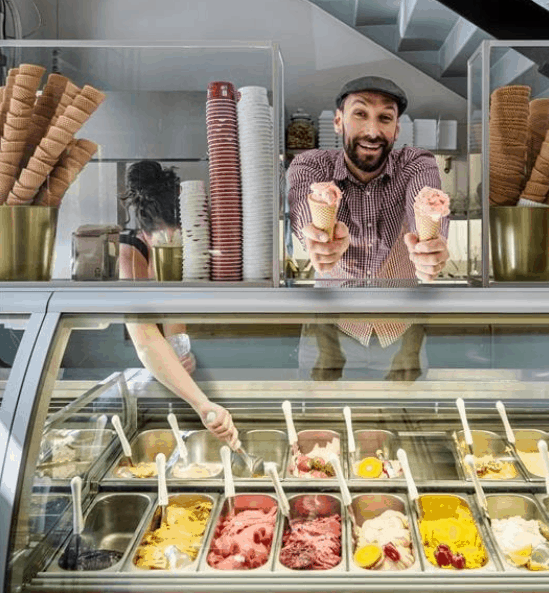 Source: instagram.com/cremedelacremeprague/

Parlor Cafe
Address: Křižíkova 197/37, Karlín, Prague 8
GPS: 50.09123, 14.44472
https://www.parlor.cz
This bistro full of greenery in Prague's Karlín district is not exactly an ice cream shop, but it offers unique ice cream sandwiches, parlors. The two cookies are joined by ice cream and you can arrange them according to your taste. First you choose a cookie that they make themselves, then you choose from 12 artisan ice creams and toppings.
Tip: If you can't get enough of the sweet stuff, try their cakes; guests rate them as the best in Prague.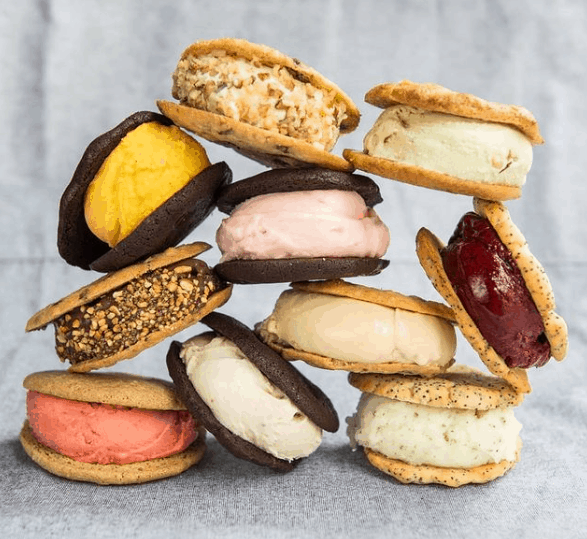 Source: instagram.com/parlorcafe/

Zmrzlinář
Address: Slezská 15, Vinohrady, Prague 2
GPS: 50.07638, 14.44168
http://www.zmrzlinar.cz
A more modest, modern place with a few tables to sit, which relies on traditional, first republic recipes and tried and tested ice cream flavours. The permanent menu always includes the 4 most popular ones - vanilla, chocolate, strawberry and pistachio, plus another 12 varieties including sorbets. While the scoops don't overflow out of the cone like some other ice cream parlours, this place has become very popular in recent years - the ice cream tastes simply great.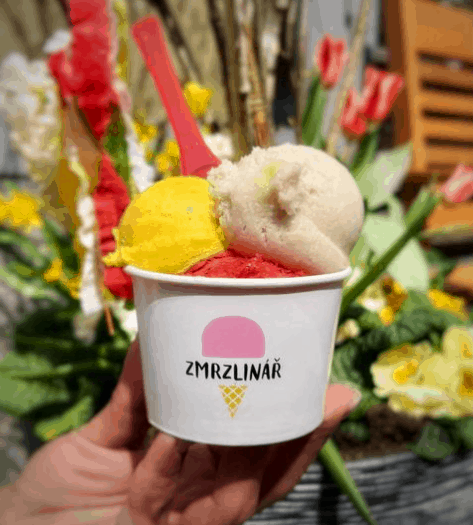 Source: instagram.com/zmrzlinar.cz/

Gelateria & Caffè Amato
Address: 2 branches
Prague 1: Vodičkova 4 ( "U Itala"), GPS: 50.0784, 14.42172
Prague 7: Kamenická 30, GPS: 50.10026, 14.42738
http://www.gelateriaamato.cz
Italian gelato in Prague offering interesting and unusual flavours such as liquorice, gorgonzola with nuts, tangerine or tomato with raspberries. The gelato is made from local ingredients, so the offer also depends on the season. Children can taste the ice cream lollipops.
Tip: In 2019, a second branch was opened in the former historic Italian pastry shop, which was nicknamed "U Itala" by the Prague residents. Since it's right in the city centre just off Vodičkova Street, you can pop in between shopping on Wenceslas Square.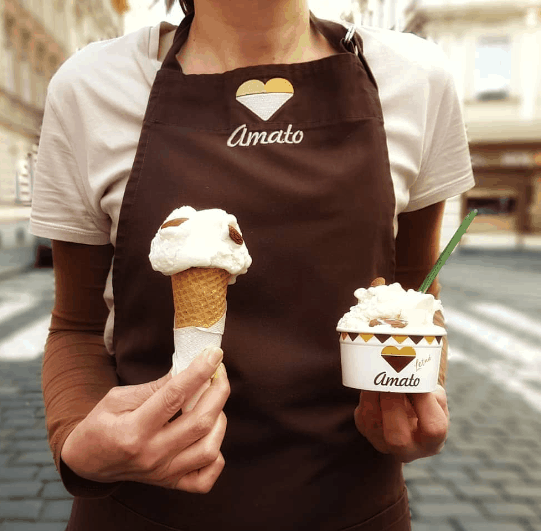 Source: instagram.com/amato_gelateria/

Additional tips:
You can also enjoy delicious ice cream in Prague while waiting for the tram. Right next to the bus stop on Náměstí Míru is the unassuming Vanille confectionery, where they have delicious ice cream in unusual flavours such as cucumber and mint or coffee flavour. From the bus stop in Vodičkova Street, just a few steps away is the Světozor with its time-tested strawberry-banana ice cream.
The latest hit of the Prague ice cream scene are ice cream rolls - the rolled ice cream. We recommend trying that one from Rolls Bros. You can try this ice cream at various food festivals or even farmers' markets on Náplavka. Or simply pop into their branch at Karlova 3, Prague 1.

Map with an overview of the best ice cream in Prague
Interesting