Best Vietnamese restaurants in Prague
Tips from locals on the best Vietnamese food in Prague

A few years ago, if you wanted to savor the rich and diverse flavors of Vietnamese cuisine in Prague, your options were limited to Sapa or the Holešovice market. However, the growing popularity of Vietnamese food in Prague, or in general among Czechs, paved the way for the emergence of establishments that specialize in this cuisine. Today, Prague boasts many exceptional Vietnamese restaurants that transport diners straight to the heart of Vietnam. Choosing the best among these culinary gems was no easy task, given the masterful cooking found in each Vietnamese restaurant in Prague. Yet, we tried. And here they are!
Moreover, we included also some tips on the bistros with delicious Vietnam street food as well as Vietnamese cafés.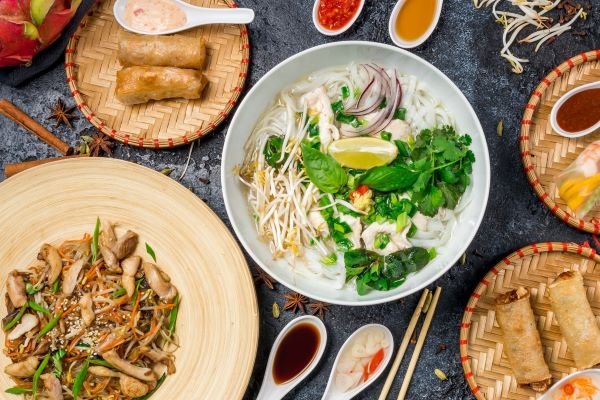 Pho Vietnam
Address: Anglická 15 - Prague 2 (restaurant), Slavíkova 1 - Prague 3 (bistro)
GPS: 50.07681, 14.43327
Web: https://www.pho-vietnam.cz/
Established in 2010, international media outlets like New York Times and CNN even mentioned this Vietnamese restaurant in Prague for its authentic and delicious Vietnamese food. After all, they proudly call themselves the first pioneers of Vietnamese gastronomy in our country and many people who have never eaten Vietnamese food before, tasted it right here for the first time. If you have a way around and time is short, stop by the bistro on Slavíkova Street for absolutely excellent rolls.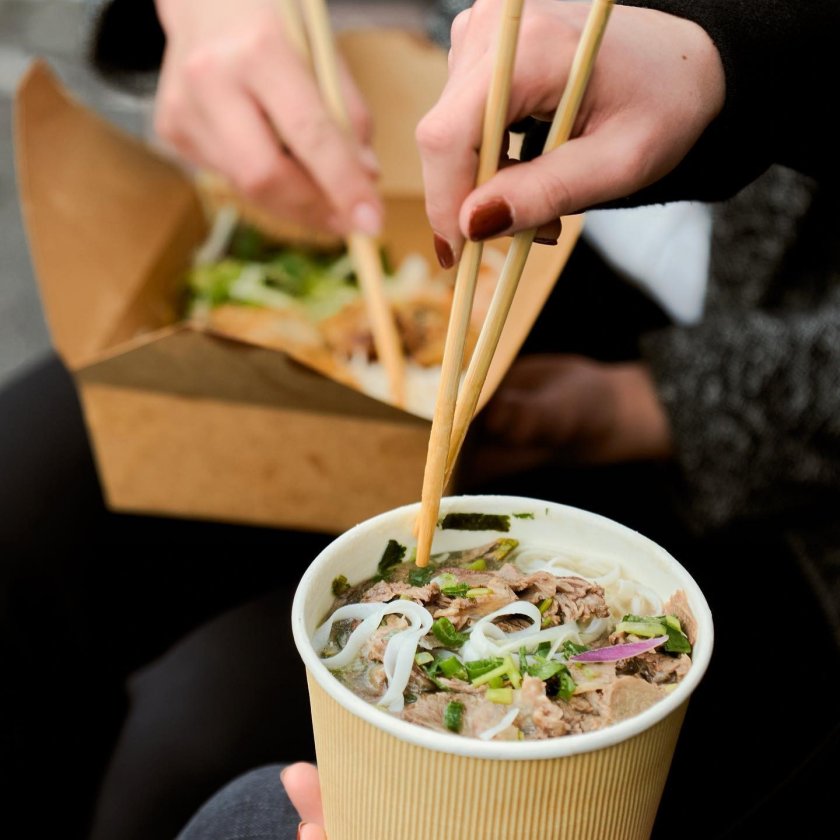 Source: facebook.com/phovietnamcz

Hanoi Square Restaurant
Address: Štěpánská 1742, Prague 1
GPS: 50.07807, 14.42489
Website: https://hanoisquare.cz/
Experience the real Vietnam just steps away from Wenceslas Square? That's exactly what one of the best Vietnamese restaurants in Prague, Hanoi Square, allows you to do. On two floors, you can enjoy a street-like atmosphere with typical houses, lanterns, motorcycles, street noise and pho stall, or taste signature drinks in the Lounge Bar with a war-themed decor. The menu is inspired by Vietnamese street food and family recipes that have been passed down from generation to generation. Definitely worth a visit!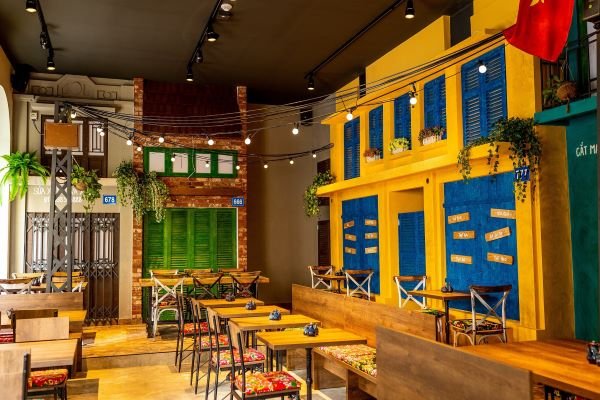 Source: facebook.com/hanoisquareprague/

Old Hanoi
Address: Štefánikova 218/3, Prague 5
GPS: 50.07232, 14.4038
Web: https://www.oldhanoi.cz/
For those seeking authentic Viet food in Prague outside the city center, Old Hanoi in Smíchov is a top choice. Specializing in traditional classics based on Vietnamese grandmothers' recipes and modern Vietnamese street food from Hanoi, this Prague restaurant offers a cozy and elegant ambiance, inviting you to spend a nice evening with friends or family there. Wooden furniture and lanterns add to the restaurant's charm.

Source: facebook.com/oldhanoi

Ngo restaurant Prague
Address: Jugoslávská 661/23
GPS: 50.07559, 14.43398
Web: https://ngorestaurant.cz/
Ngo is a family-owned Vietnamese restaurant in Prague known for its stylish environment, cozy courtyard garden, and fabulous Vietnamese cuisine. The menu not only delights your taste buds but also offers visually appealing dishes. Ngo is a perfect place to enjoy authentic Vietnamese food in Prague together with friends or family.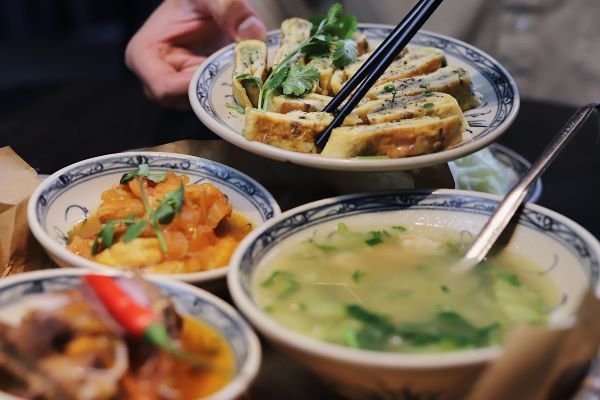 Source: facebook.com/ngorestaurantprague

Nam Viet Kitchen
Address: Vodičkova 8, Prague 1
GPS: 50.07868, 14.42187
Web: https://www.namviet.cz/
Another treasure among Vietnamese restaurants in Prague. Recipes handed down through generations are at the heart of the menu and all viet food offered here are tuned to create a harmony between the 5 basic flavours. Indeed, this concept of Vietnamese cuisine is the origin of the restaurant's name, as Nam means five in Vietnamese. The ambience is pleasant, the service friendly and fast - all the more reason for a visit. Be sure to try one of the homemade lemonades!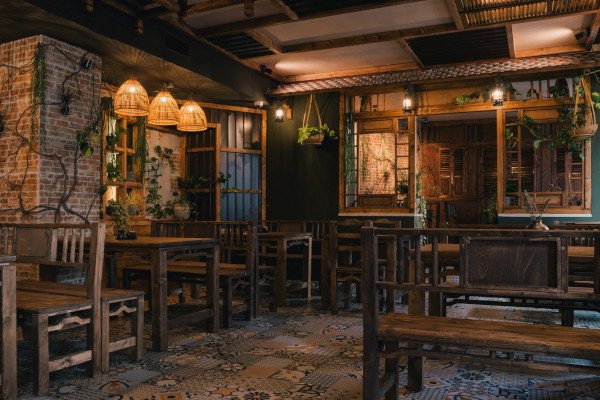 Source: namviet.cz

Nhà hai hành
Address: Drtinova 20, Prague 5
GPS: 50.07739, 14.40242
Web: https://www.nhahaihanh.cz/
Although you probably won't remember the name of this bistro, the delicious Vietnamese food you'll enjoy here will definitely stick in your mind. Nhà Hai Hành, translated as "House of Two Onions," offers a truly unique dining experience. Run by a Czech-Vietnamese couple, this bistro serves food the way it's customary in Vietnamese families – dishes are placed in the middle of the table, encouraging communal dining. The menu full of typical Viet food changes throughout the week, ensuring variety with every visit. Moreover, you can even cook your meals themselves! The bistro's punk vibe, featuring tables covered in flyers and posters or typical plastic chairs, adds to its charm.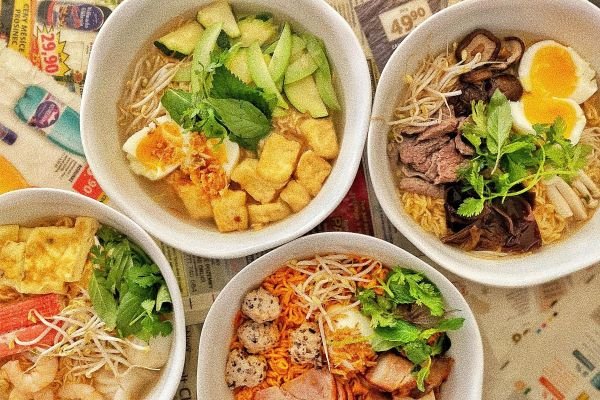 Source: facebook.com/NhaHaiHanh/

Gao Den
Address: Tlumačovská 2766/26A, Prague 5
GPS: 50.04027, 14.33595
Web: https://gaoden.cz/
This Vietnamese restaurant in Prague 5 is like the opposite of a bistro Nhà hai hành. The modern and stylish interior provides a cozy atmosphere to taste a fusion of traditional Vietnamese recipes and techniques with European culinary culture. Moreover, the restaurant prides itself on using high-quality ingredients and local produce. If you are not put off by the fact that it is not located in the centre, you will certainly not regret your trip here.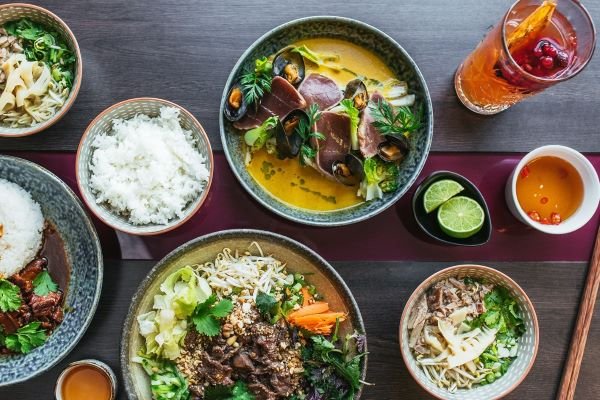 Source: facebook.com/Gaoden.Praha
Interesting fact: The Vietnamese brothers who founded Gao Den are behind the success of two other excellent restaurants in Prague - Taro and Dian. Both offer modern Vietnamese cuisine, but while Taro is all about tasting, Dian follows the idea of traditional Vietnamese dining.

Still need more Vietnam?
Here are a few more recommendations that didn't make it into our list of the TOP7 best Vietnamese restaurants in Prague, but are also good choices and a guarantee of delicious Viet food in Prague.
Remember Vietnamese Restaurant
Muc Dong
Madame Lyn
Pho Nem
Tràng An

Best of the Vietnamese street food in Prague: Bánh mì
What would be an overview of the best Vietnamese food in Prague if we left out the pearl of Vietnamese street food - the bistros that became famous mainly for typical Vietnamese baguette Bánh mi: Bánh Mi Makers and Banh-Mi-Ba.
Both establishments have gained fame for their perfectly crafted baguettes. Whether for a quick lunch, a satisfying snack, or a hearty dinner, these crispy homemade baguettes, filled with an array of ingredients, are a must-try. While Bánh Mi Makers boasts two branches (with a third opening soon), Banh-Mi-Ba can be found in eight locations across Prague. Although their menus extend to include salads, noodles, bowls, soups, and more, the baguette remains the star attraction.

For Coffee Enthusiasts: Vietnamese Cafes in Prague
In addition to Vietnamese restaurants, Prague is also home to popular Vietnamese cafes. For a coffee experience paired with delectable bites, Cafefin in Vinohrady (associated with Pho Vietnam restaurant), Cà phê in Holešovice, and Cà Phê Cổ, which combines café and restaurant, are highly recommended. These venues offer delightful Vietnamese coffee and a range of culinary delights, providing the perfect balance of flavors and aromas.

EXTRA TIP: Little Vietnam in Prague Talking about Vietnam food in Prague, it´s almost essential to mention Sapa, a unique place where one can experience the flavors, colors, and sounds of Vietnam without leaving Prague. Often called Little or Prague Hanoi, this cultural and commercial center of the Vietnamese community in the Czech Republic include a variety of shops, restaurants as well as services. Many people head here to buy ingredients typical of Vietnamese cuisine that they can't get anywhere else, but maybe also just for a trip, because a visit to Sapa is a truly unique experience.

Map with an overview of the best Vietnamese restaurants in Prague


Interesting