TOP 7 sushi restaurants in Prague
Sushi is one of the dishes where the premium quality of the ingredients plays a crucial role. At the same time, it's not exactly a "quickie", which you can use to satisfy your hunger on the fly during the day. Sushi is about savouring, experimenting, the overall atmosphere. That's why we have selected the best and by tourists as well as locals most popular sushi restaurants in Prague, where you will not only be served first-class sushi, but the visit itself will be a unique experience.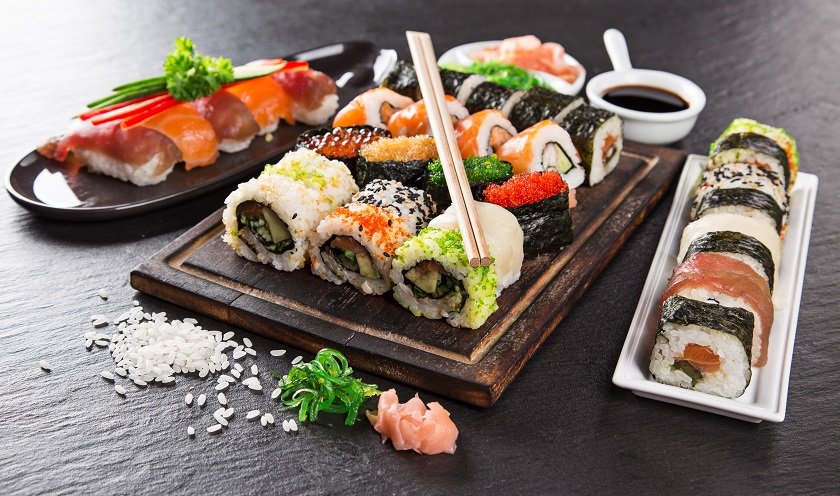 Hana Sushi House
Address: Jagellonská 1062/11, Prague 3
GPS: 50.07965, 14.45292
www.hana-sushihouse.cz
Who once visited this sushi restaurant in Prague, usually did not stay at one visit. Excellent sushi prepared with top quality ingredients and yet at fair prices, cozy atmosphere and friendly service contribute to the fact that a reservation here is practically a must. They also offer a lunch menu on selected days. Want to see under the chef's hands? The seats right at the bar make sure of it! The restaurant is owned by a couple from South Korea, so you can sample Korean cuisine in addition to Japanese specialties as well.
Source: instagram.com/hana.sushi.house/, Google

The Sushi Bar
Address: Zborovská 49, Prague 5
GPS: 50.08107, 14.40677
http://sushi.cz/
Reservations are also recommended at the Sushi Bar in Smíchov. Apart from offering one of the best sushi in Prague, this place also can boast being the first sushi restaurant not only in Prague, but also in the Czech republic. Sushi made from fresh ingredients imported from all over the world has been served there since 1999. In addition to traditional as well as original sushi variations, the menu also includes a variety of delicious salads including seaweed salad, fish dishes and soups. Of course, they also have vegetarians in mind with their menu. The interior has a simple but detailed design. On your way home, you can stop by the adjacent Seafood Shop to buy fresh fish or seafood to take home.
Source: instagram.com/seafoodprague/,
facebook.com/seafoodprague

Planet Sushi
Address: Nádražní 110, Prague 5 - Smíchov
GPS: 50.07044, 14.40522
www.planetsushi.cz
Another excellent place in Smichov, popular among lovers of Japanese cuisine from all over Prague. It is also the first branch of a successful international network of Japanese restaurants in the Czech Republic. Varied menus offer fantastic sushi, soups, noodle and rice specialties, salads and other Asian delicacies, including poke bowl, tartare or dim sum dumplings. The welcoming atmosphere is enhanced by the minimalist interior design and friendly staff, who are usually dressed in traditional kimonos.
Source: instagram.com/planetsushicz/, Google

Miyabi
Address: Navrátilova 664/10, Prague 1
GPS: 50.07853, 14.42334
www.miyabi.cz
Visit this place and we guarantee you will feel like you are in Japan. Miyabi, just a short walk from Charles Square, offers an authentic experience not only in terms of great food, but also in terms of the interior. In addition to classic tables with chairs, you can also enjoy Japanese specialties at traditional Japanese seating - at low tables on tatami. The Asian atmosphere is enhanced by natural elements, dominated by bamboo and stones. A Zen house is also available for private parties. Japanese elements such as harmony, tranquillity and purity are also reflected in the food preparation and serving. Over lunch time, traditional bento-style lunch menus are also available. Our tip? Try Asahi - a Japanese beer on tap with your meal. Given the great popularity of this place, a reservation will come in handy. In our opinion, this is definitely not just one of the best sushi in Prague, but also among the best Japanese restaurants in Prague.
Source: facebook.com/miyabipraha/

Yami Sushi House Prague
Address: Masná 1051/3, Prague 1
GPS: 50.08942, 14.42356
http://www.yami.cz/
If you're looking for a sushi kingdom, look no further - just head to Yami Sushi House just off Old Town Square. In addition to traditional sushi, you can also try fusion rolls in unique and creative flavours and forms. How about trying a Rainbow Roll, French Kiss Roll or Double Bubble Roll? You won't regret it! Moreover, with an open sushi bar, you can watch the chefs prepare your dish. In summer, there is also a nice terrace. The originality, fantastic food, friendly and professional service will keep you coming back when you visit Prague.
Source: yami.cz
Tip:
The same owners are behind Hanabi Sushi House Prague, another of the top sushi spots in Prague. Therefore, you can taste original sushi variations and unusual culinary techniques in Hanabi as well. In addition to sushi, traditional specialties such as Shabu Shabu or Sukiyaki are also on the menu. This Japanese restaurant in Prague is also worth visiting.

Yami Sushi Bistro Prague
Address: Gurmet Passage, Dlouhá 39, Prague 1 - Old Town
GPS: 50.09131, 14.42643
https://www.yamibistro.cz/
Do you like experiments? Or would you like to make your own sushi, but you don't dare to do it at home? At Yami Sushi Bistro you can create not only a sushi roll according to your own tastes and ideas, but also a whole menu. If food is also fun for you, you shouldn't miss this bistro. There are no limits to your imagination and creativity! In addition to sushi, we recommend trying the traditional Korean dish Bibimpap served in a hot stone pot. The interior is simply furnished, but it does everything you need to enjoy a quick lunch and a relaxing meal with friends to the last bite.
Source: yamibistro.cz, Google

Hanil
Address: Slavíkova 1581/24 , Prague 3
GPS: 50.08083, 14.44639
http://www.hanil.cz/
Hanil restaurant is a combination of Japan and Korea, not only in the name (Han - Korea and Il - Japan), but also on the menu. You can order classic sushi variants as well as original fusion rolls, specialties from Japanese cuisine are also worth attention. If you are more tempted by Korean cuisine, we recommend trying Bulgogi. In any case, the menu is rich and even on a repeated visit the offer is definitely not boring. As in other Japanese restaurants in Prague that we have already mentioned, premium quality ingredients are the basis of the culinary experience in Hanil.
Source: facebook.com/hanilsushi
Extra tips:
If you want to enjoy delicious sushi at really great prices, head to Sushi Tam Da near Jiřího z Poděbrad Square. It's a smaller place, don't expect any flashy interior or original culinary techniques, but in terms of price-performance ratio, it might be the best sushi in Prague. So if you just want a good, quality meal and don't need anything more, Sushi Tam Da is the perfect choice.

Are you craving good sushi but don't feel like eating it from the comfort of your home? Sushi time Prague is just for these situations! In addition to a network of bistros, Sushi time also offers delivery of various Japanese dishes. The prices are affordable, delivery is fast and you can enjoy good sushi in the comfort of your home or anywhere outside. What more could you ask for?

Map with an overview of the
TOP 7 sushi restaurants in Prague
Interesting