Events in Prague
Overview of the most famous Prague events during the year
Prague is the cultural capital of the Czech Republic and there is no shortage of events - be it music, theatre, gastronomy or sports. Many of these events are free of charge, and you will often discover more of Prague's beauty or Czech culture than the usual tourist attractions lacking authenticity. Take a look at the most famous ones that we can only recommend visiting.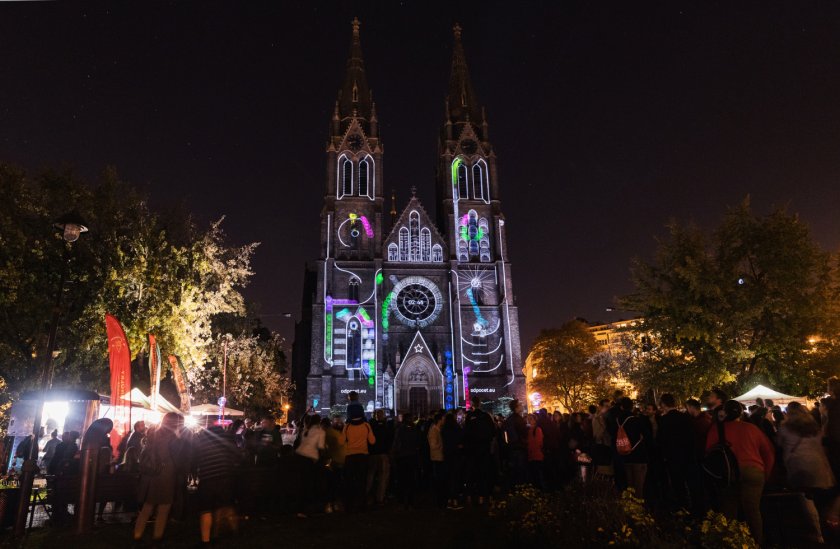 Photo: Signal Festival Prague
JANUARY

Czech Press Photo (January - July)
A prestigious photography competition at the end of which the winning images are presented in a unique exhibition. The competition is open only to citizens of the Czech and Slovak Republics, so visitors will get to know the best of contemporary image journalism. The exhibition has been held at various venues in the past, most recently at the Historical Building of the National Museum.
https://www.czechphoto.org/
MARCH

Matejská funfair (end of February - April)
Prague's largest and oldest funfair held annually in Výstaviště Holešovice (right next to Stromovka Park and a short walk to the National Gallery), where you can have fun on a roller coaster, a car show, a haunted castle and other attractions. Included are classic and adrenaline ones. There are stalls selling sweets, nuts, toys and snacks. There is a entrance fee and then a fee for each attraction.
https://www.matejskapout.cz/
Design Market (March - December)
One of the largest sales events for fashion, jewelry, pottery, toys and other products from local makers. The event is regularly held either at Václav Havel Square, next to the National Theatre, or at the Exhibition Grounds in Holešovice. It takes place over several weekends in Prague (six times a year) and you can meet at least 180 local makers. Entrance is free.
https://www.dyzajnmarket.com/
APRIL

Prague Beer Festival
A beer festival in Prague's Market Hall, Hall 13, with dozens of breweries from the Czech Republic, but also from neighbouring countries such as Germany, Belgium, Poland, etc. Both draft and bottled beers are available for purchase to take home. There are workshops, lectures and tastings. Musical performances and a rich gastronomic section will also contribute to the good mood.
https://www.pbfest.cz/
Febiofest
An international film festival in Prague that focuses on feature films and strives to offer audiences the best films of contemporary world cinema. It is one of the largest Czech film festivals. Most of the films are mostly screened in the multiplex cinema in Slovanský dům Na Příkopech, just off Wenceslas Square, with accompanying programmes in several smaller cinemas around Prague. You can buy tickets for individual films, but also accreditations for several festival days. Febiofest lasts several days.
https://www.febiofest.cz/
Easter Markets
Alongside the classic Advent and Christmas markets, Easter is another major holiday that receives a lot of attention on the streets of Prague. In most squares you will find stalls with traditional Easter products - pomlázky, painted eggs, Easter sweets such as lamb, mazanec or gingerbread. Drinks on offer include mulled wine, hot mead and more. There is usually an accompanying music programme and demonstrations of folk crafts for children. Where exactly are Easter fairs held? Prague Castle, Old Town Square, the pedestrian zone in Andel, Wenceslas Square, náměstí Republiky or náměstí Míru.
Majáles Prague
A traditional student celebration of the arrival of May and student life, culminating in an open-air festival in Prague's Letňany. Anyone who likes live music can buy a ticket. There are leading Czech bands performing on several stages, and there are food, beer and bar stalls in the area. For several years now, there has also been a student parade accompanied by many bands and other performers. On the main day of the celebrations, students will set off from the centre of Prague to the Vltava River and take public transport to Letňany Airport, the venue for the event.
https://praha.majales.cz/
MAY

Prague International Marathon
One of the most prestigious city runs in the world with a significant participation of foreign competitors. The start and finish are on Old Town Square and the entire route runs mostly through the city centre. The whole race is perfectly organized and includes an accompanying music program and other activities, so the event is also very attractive for spectators. However, if you are going to visit Prague on the date of the race, it is necessary to take into account traffic restrictions.
https://www.runczech.com/
Prague Spring
The International Festival of Classical Music has a long tradition in Prague - the first edition was held in 1946 and it ranks among the festivals with the longest history worldwide. It is also unique in the number of its concerts. Each year, over 45 performances of the best of the Czech and international music scene take place over three weeks. Healthy conservatism and novel ideas dominate. The concerts are not in one place in Prague, but take place in various interesting venues. In the Church of Our Lady before Týn, in the Estates Theatre, in the National Theatre, in the Rudolfinum, etc. Tickets must be bought in advance on the Internet.
https://festival.cz/
JUNE

Festival of microbreweries at Prague Castle
An annual tasting event in the Royal Garden of Prague Castle, which aims to introduce the public to the production of microbreweries from all over the country and compare it with nearby foreign countries. The festival is attended by dozens of microbreweries, including brewers or their owners. Due to security and limited space, the number of visitors is always limited. Tickets can be purchased at the door.
http://www.pivonahrad.cz/
Prague Museum Night
A unique opportunity to explore dozens of Prague's museums, galleries and other cultural institutions at night. Museums are open from 7pm to 1am. Admission is traditionally free, including transport on special public transport lines. The event is very popular among Prague residents, so expect queues and think in advance what places you want to visit.
https://www.prazskamuzejninoc.cz
Metronome festival Prague
A three-day music festival in the centre of Prague, featuring mainly international performers and fewer domestic acts. It focuses mainly on modern music - stars such as Sting, Iggy Pop, Chemical Brothers, Kasabian, Massive Attack, Morcheeba and others have performed. Traditionally, it is held on the grounds of the Prague Exhibition Centre, in the immediate vicinity of the royal Stromovka preserve, where you can relax by several ponds or in the shade of trees. The festival also offers the opportunity to buy tickets to the VIP zone on the roof of the Křižík Pavilion with a view of the entire festival and a separate bar. Only cashless payments can be made in the area.
https://metronome.cz/
United Islands
An annual music festival in the centre of Prague, which takes place outdoors on Slovanské and Střelecký ostrov as well as in the adjacent Kampa Park. Open air festival usually continues in selected clubs at night. Dozens of artists from Western and Eastern Europe perform on seven stages. The festival is multi-genre - visitors will hear various forms of contemporary pop, rock, post-punk, jazz and alternative music. The festival also includes workshops, exhibitions and debates. Admission is free.
https://www.unitedislands.cz/cs
AUGUST

Letní Letná
A three-week festival of the best in domestic and international new circus, theatre and music. Visitors can spend the whole day in the festival grounds in Letná Sady. During the day, there is a rich theatre and accompanying programme (from workshops to art or circus workshops to concerts and open-air events), several relaxation zones, refreshment stands and bars. It all culminates in an evening performance. Some activities are free, with tickets for the main programme on sale in the festival grounds.
https://letniletna.cz/cs/
Prague pride
A week-long festival in support of the LGBWTQ (lesbian, gay, bisexual, transgender, queer, asexual and intersex people) movement organised since 2011. It culminates in a rainbow parade on Saturday, with a party and music at the end. In addition, it regularly presents a large number of public discussions, debates, workshops and sporting and cultural events. There is also a festival village with food stalls.
https://festival.praguepride.com/
SEPTEMBER

Prague Food Festival
The three-day gastronomic event Prague Food Festival aims to present high gastronomy at an affordable price. In the attractive surroundings of Vyšehrad, top dishes prepared by the best restaurants in the Czech Republic are offered, as well as delicious drinks, delicacies and a rich accompanying programme. Visitors pay a basic entrance fee, which includes a package for a basic tasting.
https://maureruv-vyber.cz/prague-food-festival
Gastro festivals on the Smichov Embankment
In Prague, food festivals with themed food offerings have boomed in recent years. From September to October, several interesting gastronomic events take place on the Smichov Embankment. Street food, Sunday street food and flea market, Asia street food, Polívkování, Husobraní, Vepřobraní. Entrance is usually free, you only have to pay at the food stalls. From Náplavka there is a beautiful view of Vyšehrad and the adjacent Vltava River.
https://foodevent.cz/
OCTOBER
Signal fest
A unique festival of light, video mapping and art installations. The most famous historical monuments are projected with visual art of Czech and international personalities of light design, streets and public spaces are transformed into art objects and spaces during several evenings. There is also an accompanying programme for children. Admission is free. The festival is very popular, so you have to expect a lot of people and queues.
https://www.signalfestival.com/
Designblok
Prague's international design and fashion festival, the largest in Central Europe, founded in 1999. It presents new products by designers and manufacturers with an emphasis on Czech design and creations from the regions of Central Europe. In past years, the event has been divided into two exhibition houses - in the Museum of Decorative Arts and in the unique space of St. Gabriel's Monastery (Gabriel Loci). At each edition, prizes are awarded for the best design achievements. Tickets can be purchased in advance.
https://www.designblok.cz/
NOVEMBER

Velvet Revolution
The annual celebration of the anniversary of the Velvet Revolution (which led to the fall of the totalitarian communist regime) on Wenceslas Square and Národní třída, the centre of the revolt against the communist dictatorship. Visitors can browse a street exhibition, attend talks and watch theatre. The organisers try to come up with something new every year - audiovisual installations and projections are also part of the programme. In addition to musical numbers, there are also speeches by speakers from among Czech politicians, diplomats and interesting personalities. The march of satirical masks through the city centre, the so-called Velvet Lighting, is a tradition. It is also customary to light a candle at the place where students clashed with the then public security and to place floral offerings in front of the memorial plaques. The culmination is the traditional Concert for the Future with leading Czech artists.

DECEMBER

Prague Christmas Market (end of November - beginning of January)
As in every other Central European city, Prague also hosts a Christmas market during Advent. Around four weeks before Christmas Eve, street stalls with Christmas decorations and refreshments are set up in Prague's squares and selected streets in the centre. Traditionally, hot alcoholic drinks such as mulled wine, mead and punch are sold. The most common foods are lángos, sausages, Czech pancakes and, in recent years, trdelníky. The biggest Christmas fair is on Old Town Square, where Prague's largest Christmas tree is located. Everything starts with its lighting ceremony, which is why it is an important symbol of Christmas in Prague. There are also live animals from the nativity scene. Where else to visit the Christmas markets? Wenceslas Square, Republic Square, Peace Square, the Anděl pedestrian zone and other places.
Interesting