Best pancakes in Prague
TOP 5 tips from locals
Pancakes - this phenomenal French invention has won the popularity of sweet tooths all over the world. Are you one of them? Then accept our invitation to the cafés and bistros where they make you the best pancakes in Prague and where you can enjoy a relaxing stop while exploring the beauty of Prague. Whether you choose "crêpes" decorated with countless sweet ingredients or salty "galettes" (pancakes made from buckwheat flour, which is gluten-free), you won't regret it. Do we make you crave? Then read on to find out which Prague creperie can prepare the best pancakes in Prague!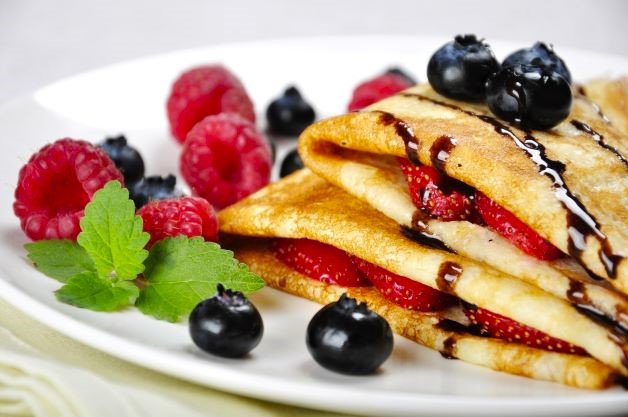 Creperie U Slepé kočičky
Address: M. Horákové 600, Prague 7 - Holešovice
GPS: 50.099849, 14.427942
https://slepakocicka.cz/
Moist batter, plenty of filling and great taste - none of this is missing from the pancakes at this nice creperie in Prague. How about a combination of lemon curd, blueberries and mint or a variation of egg, cheddar, ham and jalapeños? Drinks here include cherry beer and honest homemade lemonade. The cosy interior with its homely atmosphere and friendly service will please not only cat lovers. In summer, you can also enjoy the pleasant outdoor seating area.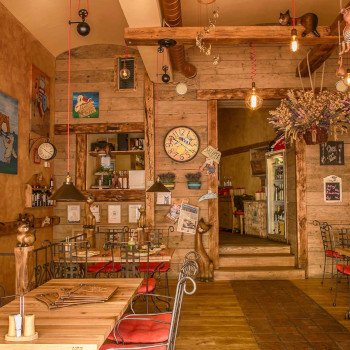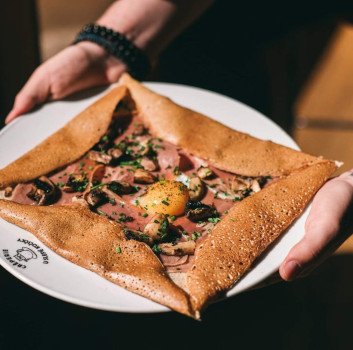 Source: facebook.com/slepakocicka/
Tip:
If you feel like you need to balance your diet a bit after the visit of this Prague pancakes heaven, right next to Creperie there is a salad room called U Slepé mrkvičky with a range of soups, salads composed according to your preferences, smoothies and many other goodies.

Café Creperie Pod Věží
Address: Dražického nám. 64, Prague 1
GPS: 50.087780, 14.407091
https://www.facebook.com/cafecreperiepodvezi/
While strolling around the Old Town you will welcome a tip for a quiet place where you can enjoy a coffee and a great pancake undisturbed. Creperie Pod věží, another of creperie in Prague worth visiting, is located just a minute from the Charles Bridge, yet away from the main tourist stream. The friendly staff will offer you sweet pancakes with fruit as soft as a cloud and richer savoury variations with typical fillings of ham, cheese, eggs, spinach or salmon.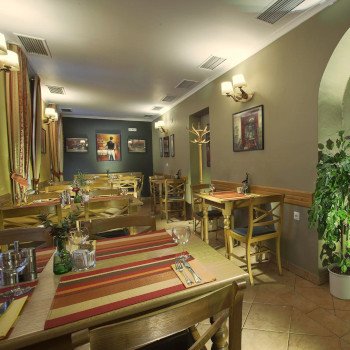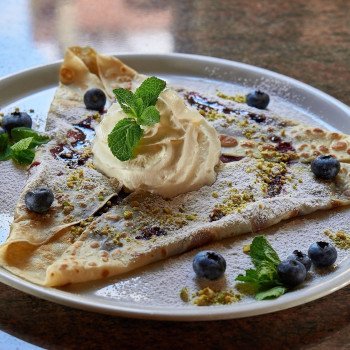 Source: facebook.com/cafecreperiepodvezi/

Creperie Mirakulum
Address: nám. Jiřího z Poděbrad 873, Prague 3 - Vinohrady
GPS: 50.0783444N, 14.4521558E
http://creperiemirakulum.cz
A sunny establishment with a unique interior designed by an academic sculptor can be found right on Jiří z Poděbrad Square. Here you can enjoy delicious buckwheat flour pancakes in a variety of imaginative variations, such as apple, cinnamon, raisin and vanilla pudding or three types of cheese and garlic creme fraiche. According to your preferences and taste, you can add some more ingredients and embellish your pancake to perfection. The taste experience can be completed with a glass of wine, prosecco or fresh juice. Salads and homemade soups are also available. We can recommend this Prague pancake spot to parents with small sweet tooths as well.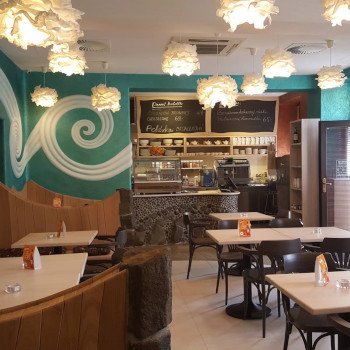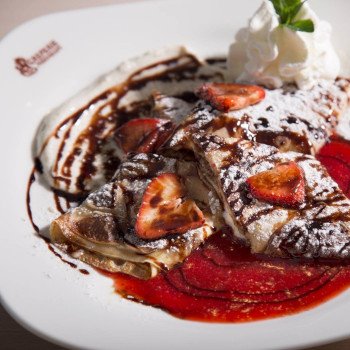 Source: facebook.com/CreperieMirakulum/

Bistro Palačinka
Address: Slavíkova 1562/4, Prague 3 - Vinohrady
GPS: 50.078728, 14.448541
https://www.instagram.com/bistropalacinka/
This cosy bistro near Jiřího z Poděbrad Square has the friendly atmosphere of a family business and is polished from the menu to the design. The menu offers a large selection of richly filled pancakes prepared both savoury and sweet. If you like to discover new flavours, try the portobello, beef or plum and poppy seed. There is also a vegan version. There are also fresh juices and delicious coffee. In summer, it's nice to sit in the small garden or have a picnic in the nearby Rieger Gardens. So how about heading out for brunch for some of the best pancakes in Prague?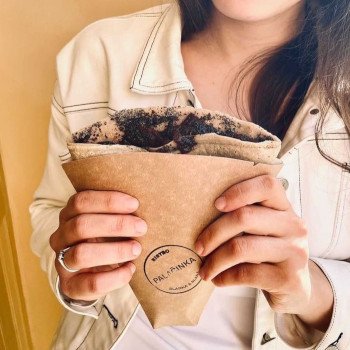 Source: instagram.com/bistropalacinka/

Waf waf
Address: 3 branches
Milady Horákové 52, Prague 7 - Holešovice, GPS: 50.100091, 14.425834
Bělehradská 67, Prague 2 - Nové Město, GPS: 50.072928, 14.433057
OC Palladium, Náměstí Republiky 1, Prague 1 - Nové Město, GPS: 50.089331, 14.429808
https://www.waf-waf.cz/
In addition to stylish cafés, bistros and creperies in Prague, you can also find great pancakes in Prague at the Waf-Waf concept, a chain of establishments specialising in waffles and pancakes. Waf waf has a playful interior with retro elements of a milk bar. On a leaflet, you choose whether you want a pancake or waffle and tick any combination of over 50 ingredients to garnish it with. Or you can choose a ready-made variation from the quarterly rotating menu. The branches on Letná and at I.P.Pavlov have a small garden and a children's corner as well. Mothers with strollers as well as four-legged friends are also welcome there.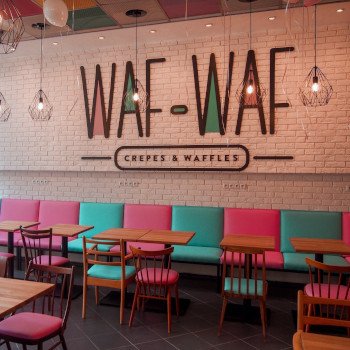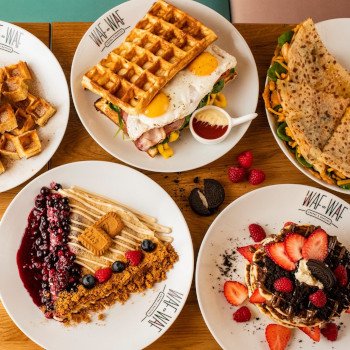 Source: facebook.com/wafwafletna/
EXTRA TIPS:
If you're more of a pancake (meaning flapjacks) than a crepes type, we recommend visiting
Den Noc Bistro
, where you can choose from more than 20 varieties of pancakes, both savory and sweet, traditional and unusual combinations. In addition, after 3 pm, the DEN bistro turns into a NIGHT bar and offers a pleasant sitting over a glass of good wine.

How about a combination of delicious pancakes in Prague and a bit of culture? Crepes&Coffee serves not only sweet crepes or savoury galettes, but also regular movie nights. During sommer, there used to be some theather performance as well.

Map with an overview of the
TOP 5 spots with delicious pancakes in Prague
Interesting