Best fried cheese in Prague
TOP 9 spots for the best cheese experience

Fried cheese, in Czech "smažený sýr" or simply "smažák", is among those types of meals that elicit diverse reactions. Some love it, others reject it. Although it is dismissed by many as an unhealthy food, this gooey delight finds its place on menus of almost every Czech pub, from shabby, low-end pubs, buffets on the street or at the train station to modern, middle or even high-end restaurants.
Moreover, it is even mentioned in many tourist guides. So it is no wonder that in addition to the legendary sirloin, most tourists in Prague want to try fried cheese. Don't expect any culinary miracle (although the price might make it seem so), but the truth is that fried cheese has evolved and can be enjoyed even by discerning gourmets. So where to go when you want to indulge in this guilty pleasure? Where to get the best fried cheese in Prague?
Prepare your taste buds and read on!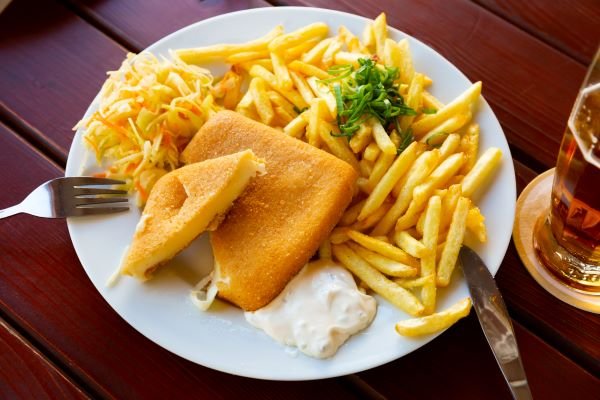 What to expect when ordering a "smažák" in Prague?
Fried cheese is a slice of cheese coated in a mixture of flour, egg and breadcrumbs and then fried in oil to a crispy golden-brown. Eidam is used as a base, but Emmental or Gouda is also possible. It is most often served with potatoes or french fries, with tartar sauce or ketchup. In some restaurants or fast food stands in Prague you can also get a fried cheese sandwich, served in a bun like a hamburger.
Best Fried Cheese in Prague
Lokál
Address: more branches in Prague, see the map below
Lokál Dlouhááá, U Bílé kuželky, U Zavadilů, Hamburk, Nad Stromovkou, Korunní, U Jiráta
Web: lokal.ambi.cz/nase-hospody
The restaurant chain Lokal is one of those restaurants in Prague that elevated ordinary fried cheese to a higher level (unfortunately, so does its price). For the preparation, they use Eidam from an organic farm, which is aged for several weeks and thanks to this the cheese "stretches" perfectly when cut. In other words - the fried cheese is crispy on the outside and gooey on the inside. The unique flavour comes from frying it in clarified butter instead of oil. It is usually served with potatoes and homemade tartar sauce, but you can also have it in a bun.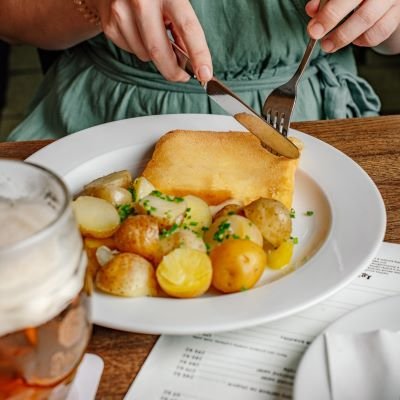 Source: facebook.com/lokalcz

U Houmra
Address: Šumavská 20, Prague 2
GPS: 50.0747041, 14.4440937
Web: uhoumra.cz/
When someone says "fried cheese in Prague", "U Houmra" is mostly the first place that comes to mind. This classic Czech pub is perfect for every fan of the Simpson family and all fried meals. We recommend being very hungry when you head here as the portions are mega huge! If you expect a high price at the same time, you will be very pleasantly surprised.

Restaurace Masaryčka
Address: Havlíčkova 1014/2, Prague 1
GPS: 50.0876539, 14.4327977
Web: masaryckarestaurace.cz
Railway station restaurants don't usually have a reputation for quality dining. However, Masaryčka defies this stereotype. The interior alone suggests that this is a modern restaurant where people don't go just to shorten their wait for the train. Just try their fried cheese, one of the best in Prague! Made with 45% gouda fried in butter, accompanied by homemade breadcrumbs and absolutely perfect tartar sauce, it's heaven for all cheese lovers.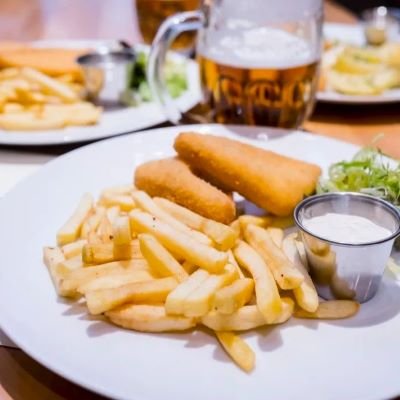 Source: facebook.com/masaryckarestaurace

St. Martin
Address: Vlašská 7, 118 00 Malá Strana
GPS: 50.0872295, 14.3999862
Web: stmartin.cz
Famous for its mini fried cheeses served in a cone, St.Martin restaurant offers an unusual twist on this legend. Using quality aged gouda, the fried cheese stretches perfectly, with crispy homemade breadcrumbs and homemade tartar sauce. If you prefer a more classic version - meaning fried cheese on a plate, you'll find it on the menu too. Head there to taste one of the best fried cheeses in Prague and you´ll be pleased also with the friendly service and reasonable prices.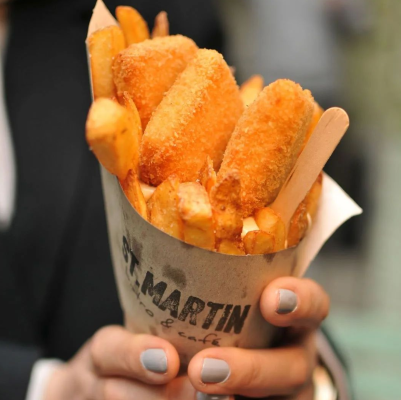 Source: facebook.com/stmartinrestaurant

MyChef Bistro
Address: U Školské zahrady 19, Praha 8
GPS: 50.1253463, 14.4597422
Web: mychefbistro.cz
The name MyChef was first associated with the luxury boxed diet, later they opened their own bistro. And one of their signature dishes became their MyChef fried cheese. Either in the classic version, in a roll crust, Grenaille potatoes and of course homemade tartar sauce. But if you want something special, try the Fried Cheese Sandwich in a panko crust and a homemade potato bun. Combined with mayonnaise, pickled apple and lettuce, this flavor combination will literally shoot you into cheese heaven.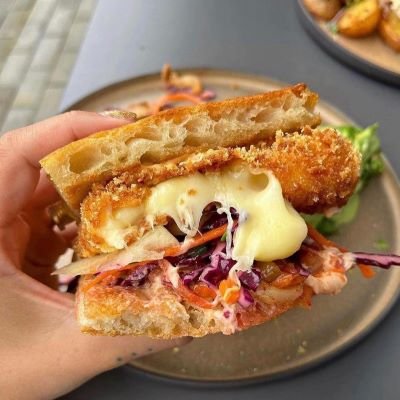 Source: facebook.com/mychef.bistro

Eaternia
Address: Nádražní 349/3, Praha 5-Smíchov
GPS: 50.0657196, 14.4079542
Web: eaternia.com
A vegan eatery making it to the list of the best fried cheese in Prague? Absolutely! Eaternia offers a vegan version of fried cheese that undoubtedly competes with the best in Prague. The place is also interesting for its unique genius locí, as in addition to the eatery, there is a mini ramp, music rehearsal rooms, a pole dance studio or spaces for concerts and other events.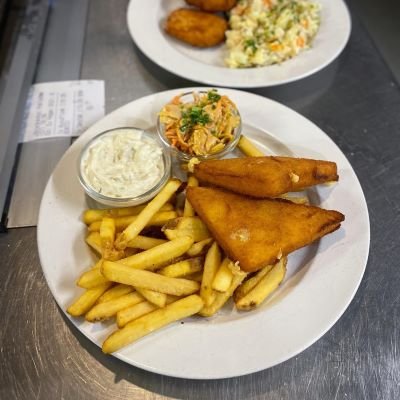 Source: facebook.com/eaterniajidelna

Spravovna
Address: Ondříčkova 1029/1, Praha 3
GPS: 50.0791552, 14.448363
Web: spravovna.cz
The second place on our list of the best fried cheese in Prague which is located in Prague's Žižkov district. Could it be a coincidence, or the fact that Žižkov was and still is famous for its distinctive establishments, to which fried cheese with its former reputation as junk food somehow belongs? Either way, Spravovna welcomes you with a modern design interior and delicious fried cheese in herb breadcrumbs, accompanied by perfectly roasted potatoes and homemade tartar sauce. The portion may be smaller than Houmra's (but we guess that's everywhere! :) ), but it doesn't change the fact that you'll have a great meal there.

Kavárna Velryba
Address: Opatovická 24, Prague 1
GPS: 50.08030615331361, 14.418417567310355
Web: kavarnavelryba.cz/
Going for a fried cheese at the cafe? What an odd idea, you say? Believe us, the best one! This place in the centre of Prague is famous for its burgers - and one of them is the "smažák burger". With a homemade bun, matured gouda, fresh veggies and homemade tartar sauce, it's a culinary art (and not only because there is a real contemporary art gallery in the basement of the café). French fries are not included, must and be ordered separately, but the portions are large, so you may have trouble finishing the burger without them.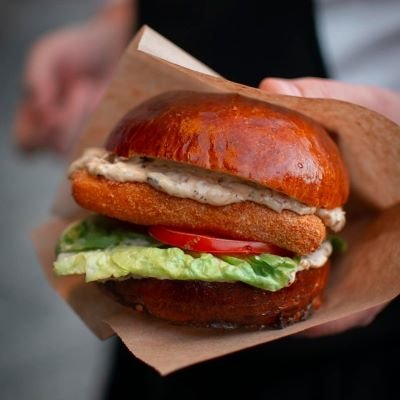 Source: facebook.com/kavarnavelryba

MaLi Bistro
Address: Freyova 247/13, Prague 9
GPS: 50.10317079492864, 14.502910355673443
Web: malibistro.cz/
This small bistro is located a bit off the beaten tourist path. However, this hidden gem is worth the trip. Especially if you are on a gluten-free diet as everything from the menu can be prepared in a gluten-free version. Including the fried cheese, of course! In addition to one of the best fried cheese in Prague, friendly service and affordable prices are other reasons for visiting this place. Try also their burgers or pizza, available in gluten-free versions as well.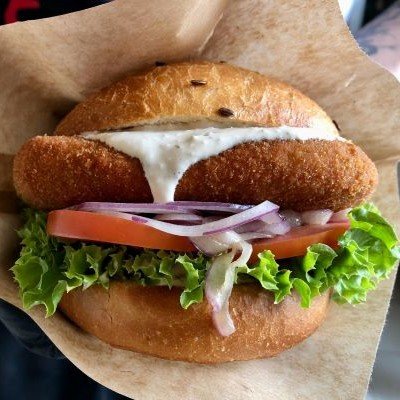 Source: facebook.com/MaliBistro
Tip:
Hungry for more tips for tasty fried cheese in Prague? Check out the special map - "
smažákomapa
", where fried cheese lovers share their favourite spots not only in Prague, but also across the Czech Republic.

Map with the overview of the spots with delicious fried cheese in Prague
Interesting