Luggage Storage in Prague
last update: 2023
When you embark on a journey to the picturesque city of Prague, the last thing you want is to be weighed down by heavy bags while exploring the enchanting streets and iconic landmarks. And here's the question: What to do with your luggage? Where to store it safely? That's where luggage storage in Prague comes to your rescue, allowing you to explore the city and roam freely without the burden of your belongings.

Best Left Luggage Storage in Prague
Apart from hotels, there are a number of luggage storage facilities (or just luggage lockers) across Prague. This guide will provide you with an overview of the best options available, ensuring the travel experience is seamless and stress-free. Whether you're arriving at the airport, train station, or exploring the city center, these facilities offer secure and efficient storage solutions. So let´s take a closer look at each of them.
Note: Luggage storage facilities usually accept easily portable luggage without the risk of soiling, injury or causing any damage to persons. A complete list of luggage and items that can or cannot be stored is usually available on the website of particular services.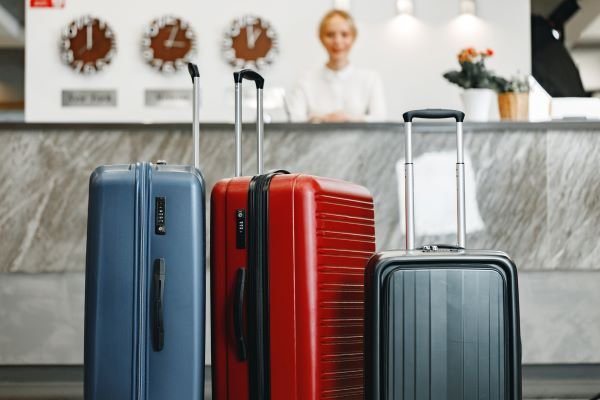 Luggage storage in Prague at transport hubs

Airport luggage storage
Václav Havel Airport Prague Luggage Storage
Location: Aviatická, Prague 6
Accessibility: bus stop Terminal 1 or Terminal 2 (directly in front of the airport hall) or Airport Express bus stop providing a direct connection between the airport and the main train station (approx. 25 minutes).
Website: www.prg.aero/en/baggage-storage
At Václav Havel Airport, you can conveniently store your luggage before or after your flight. With its 24/7 accessibility and secure facilities, you can trust that your belongings will be well-taken care of while you explore Prague.

Train station luggage storage
Prague Main Railway Station Luggage Storage
Location: Wilsonova, Prague 1
Accessibility: metro station A or C - Hlavní nádraží, tram stop Hlavní nádraží or Jindřišská
Website: www.cd.cz
Prague Main Train Station offers reliable luggage storage services. You can safely store your luggage for a maximum period of 40 days. If it is not collected within the time limit, it can be opened to identify the owner. Remember to keep your storage ticket safe, as it serves as proof of ownership when retrieving your luggage (otherwise, the luggage can be released to anyone who has a storage ticket).
Another option is to use self-service luggage lockers at Prague train station operated by a commercial company - see below for more information. There is a bicycle locker at the station, too, also run by a private company.

Bus station luggage storage
ÚAN Florenc
Location: Pod výtopnou 13/10, Prague 8
Accessibility: bus, tram and metro station Florenc
Website: florenc.cz
At ÚAN Florenc, the central bus station in Prague, there are two luggage lockers. You can securely store your luggage for up to 30 days. After this period, it can be removed without a refund. Make sure to check the list of prohibited items before depositing your belongings (available on the website). In general, the value of a single piece of luggage, including its contents, should not exceed CZK 15,000. To claim your stored luggage, you must present a storage ticket, indicating the price for this service.

Other luggage storage options in Prague
Apart from the luggage storage and luggage lockers available at train station and other transport hubs, Prague also offers additional options operated by private companies. While these facilities provide broader coverage across different parts of Prague, they may come with higher costs and limited storage durations.

▪️ Radical Storage Prague RECOMMENDED
Location: multiple locations across Prague
Website: https://radicalstorage.com/
Through a collaboration with local businesses, including hotels, cafes or offices, Radical Storage operates a widespread international network of luggage storage facilities in Prague as well as internationally. This allows Radical Storage to offer its services in multiple locations throughout Prague and you can easily find luggage storage in Prague near you. Prices are affordable, starting at around 5€ per day, regardless of the size or weight of your luggage. The opening hours of these lockers may vary, with some providing 24/7 accessibility. For an overview of the luggage storage available in Prague and to find the nearest to you, visit the website.
▪️ Travel Box / Cubesave
Location: Main train station Praha, Wilsonova
Accessibility: metro station A or C - Hlavní nádraží, tram stop Hlavní nádraží or Jindřišská
Website: http://www.travel-box.cz/
In addition to manned luggage storage, the main train station in Prague provides self-service Cubesave luggage lockers. These bright yellow lockers, available in various sizes (S, M, L or bike), are located in the train station´s lobby. You can rent them for 6 or 24 hours, with the price varying based on the locker size and rental duration. Each locker is equipped with a USB connector, allowing you to charge your phone, tablet, or camera. Additionally, you can even charge an electric bike in the Bike Boxes. One of the advantages of using these lockers is the option to re-enter them, ensuring easy access to your stored items. Payments can be made only cashless - by card, or via mobile phone. However, the availability of these luggage lockers is determined by the station´s lobby opening hours.

▪️ Easylocker
Location: Prokopská 625/1, Prague 1
Accessibility: tram station Malostranské náměstí or metro station Malostranská
Website: www.easylocker.cz
Offering approximately 50 self-service lockers, this luggage storage is ideally located in the heart of Prague, just 100 meters from Malostranské náměstí and 150 meters from Charles Bridge. Lockers cater to suitcases, backpacks, and other travel luggage. The small and medium lockers are equipped with a universal USB charger for added convenience. To use the lockers, simply select the desired size and storage duration using the electronic terminal. After making the payment by credit card or mobile phone, a storage ticket will be printed, and you can place your luggage securely in the locker. These luggage lockers in Prague are accessible daily from 9 am to 9 pm and can be rented for durations ranging from 1 hour to 5 days. To ensure availability, you can reserve a locker in advance on the website.

▪️ Luggage storage Prague
Location: right in the centre of Prague, you´ll find 3 branches of Luggage Storage Prague:
Revoluční 8, Prague 1 (near OC Palladium) - exclusively for long-term storage
Havlíčkova 2, Prague 1 (Masaryk Station)
Jakubská 663, Prague 1 (OC Kotva) - self-service lockers
Accessibility: all locations are easily accessible by tram or metro station B - Náměstí Republiky and Masarykovo náměstí.
Website: luggagestorageprague.com
At Luggage Storage Prague, you can store your luggage for durations exceeding 60 days, moreover at a special long-term rate. The facilities offer 24-hour security, ensuring the safety of your belongings. Additionally, they offer the convenience of picking up your luggage from the hotel or airport and storing it on your behalf. Holders of ISIC, ITIC, IYTC, or ALIVE cards enjoy a generous 10% discount on storage services.

Note: Remember to check the operating hours and specific details of each luggage storage in Prague before visiting to ensure a smooth experience during your stay in Prague.

Benefits of Using Luggage Storage Services
Using luggage storage in Prague offers several advantages for travellers, making it a practical and convenient option for those exploring the city. Here are some of the key advantages:
Freedom to Explore: Storing your luggage allows you to roam around Prague freely, unburdened by heavy bags, and fully enjoy Prague´s attractions.
Safety and Security: Reputable luggage storage services in Prague offer secure facilities with proper surveillance, giving travellers peace of mind that their belongings are in safe hands. You can confidently explore the city, knowing that your luggage is well-protected.
Flexibility: With various storage options and lockers available, you can choose the duration and size of a locker that suits your travel plans. You can check out of their accommodation, store your luggage, and continue exploring Prague before departure. This is particularly useful when your flight or train is scheduled for later in the day, giving you extra time to make the most of your trip.
Convenience: Luggage storage facilities in Prague are strategically located at transport hubs, such as an airport, train station or bus terminal, and other key areas near major tourist attractions, ensuring easy accessibility when needed.
Long-Term Storage: For travellers with extended layovers or multi-day stopovers, some luggage storage in Prague provides long-term storage solutions, allowing you to explore other destinations before returning to collect your luggage
Convenient Online Booking: Luggage storage services in Prague, such as Radicalstorage.com, for example, allow you to book in advance online, ensuring you have a guaranteed spot for your belongings. This eliminates the need to worry about availability, especially during peak travel seasons.
Cost-Effective: Although luggage storage and lockers are usually not the cheapest, they can still be more cost-effective than other alternatives. Many storage options offer competitive rates, especially when compared to the convenience they offer.
Frequently Asked Questions (FAQs)

Q: Is luggage storage in Prague safe?
A: Yes, luggage storage facilities in Prague are generally safe and secure. Most facilities implement strict security measures, including surveillance cameras and access controls, to ensure the safety of your luggage.
Q: How much does luggage storage in Prague cost?
A: Prices vary depending on the storage duration and facility, but you can find affordable options starting from a few euros per day.
Q: Is luggage storage in Prague available at all times of the day?
A: Many storage facilities offer 24/7 accessibility, ensuring you can store or retrieve your luggage whenever needed.
Q: Can I store my luggage for an extended period?
A: Yes, some facilities in Prague offer long-term storage options, allowing you to store your luggage for more than 30 or 60 days. However, be aware that long-term storage may come with additional fees or special conditions.
Q: Can I book a locker in Prague in advance?
A: Yes, for example, Radical Storage Prague or Easylocker allow you to reserve a locker in advance through their website. This option ensures that you have a locker available when you arrive. It´s useful especially during busy travel seasons.
Q: What payment methods are accepted for luggage storage and lockers in Prague?
A: Most luggage storage facilities accept cash and card payments. Additionally, some facilities may offer cashless payment options, allowing you to pay using your card or mobile phone.
Q: Can I access my stored items multiple times during the rental period?
A: Yes, services like Travel Box / Cubesave provide the convenience of re-entering the locker during the rental period. This allows you to access your belongings whenever needed without any hassle.
Q: Can I store special items like bicycles and skis in luggage storage facilities?
A: Yes, some facilities accept special items like bicycles, skis, and snowboards, provided they are properly packaged. However, it's essential to check with the storage facility's guidelines and restrictions to avoid any inconvenience.
Interesting