Airport
Prague's international airport, previously known as Prague Ruzyně International Airport, was officially renamed Václav Havel Airport Prague in October 2012, in honour of the former Czech president Václav Havel, who was the country's first president after the Velvet Revolution in 1989. Its IATA (International Air Transport Association) code is PRG, and the ICAO (International Civil Aviation Organisation) code is LKPR. The airport handled more than 12 million passengers in 2015.
Located on the north-west outskirts of Prague in the Ruzyně district, Václav Havel Airport is approximately 17 km far from the historic city centre. This modern airport, with three terminals, is the largest and busiest among the newer EU member states. It caters for both domestic and international flights with more than 200 flights daily to 83 destinations in 38 countries.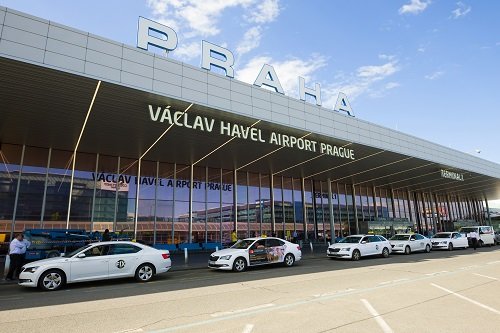 Arrivals hall
Contemporary, airy and spacious, the arrivals hall offers a wide range of facilities. As well as shops, restaurants, and lounges, other services include a post office, a pharmacy, exchange office, ATM machines, a fresh flower bouquet vending machine, and a photo booth. Travellers can also enjoy a relaxation centre and shower facilities. For families, there are children's corners with baby rooms. Free wi-fi available on prg.aero-free.
Useful advice for travellers:
Terminal 1 has coffee shops and bars on the ground floor and a lounge on the first floor.
There is a grocery store between the arrival and departure halls.
The Information Centre is open 24 hours a day.
The airport is non–smoking with designated smoking areas outside the terminals. In the transit hall, the Smetana Café and The Globe Restaurant provide separate smoking areas for customers.
TIP: For travellers who enjoy watching aircraft take offs and landings, there is an excellent viewing terrace on the first floor of the hall connecting Terminals 1 and 2.
restaurants and shops
Prague Airport offers a wide range possibilities of restaurants and coffee shops, including fast-food outlets such as McDonalds, and Subway. Most are open from 7:00am to 9:00pm with some open 24 hours a day. Restaurants offering fine dining are located in the transit hall.
The airport has more than 80 shops. Opening hours are from 7:00am to 9:00pm. Duty-free shops are located in the transit hall of Terminal 1 with some open 24 hours a day.
terminals
The airport has three terminals: T1, T2, and T3.
Terminal 1 is for international flights to destinations outside the EU Schengen Zone (United Kingdom, Ireland, USA, Canada, Middle East, Africa, and Asia). Passport control is in operation.
Terminal 2 is designated for domestic flights and international flights to countries within the Schengen Zone and other European destinations. Passport control is not in operation.
Terminal 3 is designated for charter, cargo and private flights. It is also used for official state visits and other important events.
Arrivals and departures
Detailed information for arrivals and departures can be found on official airport website.
accommodation and hotels close to the airport
Information about accommodation near the airport
Getting from the airport
There is no direct metro or train connection between the airport and the city centre. However, there is an airport express bus (AE) to the city's main train station, Hlavní Nádraží (Metro C). Throughout the day, travellers can use:
Bus lines MHD (Public City Transport)
Airport Express (AE) bus to the main train station
Taxi services
Travel time between the airport and the city centre takes approximately 30 minutes and depends on the time of day. At night, public transport night lines or taxi services can be used.
Detailed information about transport to and from the airport can be found here.
Parking
Safe and convenient parking for 3000 cars is available in the airport car parks with 2000 spaces dedicated to long-term parking.
When parking for less than 15 minutes, parking zones P1 (Terminal 1) and P2 (Terminal 2), located directly in front of the terminals can be used. The first 15 minutes is free and the charge thereafter is 100 CZK per 30 minutes.
It is forbidden to park in the first lane adjacent to Terminal 1 which is designated for airport partners and employees.
Short–term parking
Short-term parking is available in a wheelchair-accessible three storey building: parking zones B (outdoor) and C (covered). It is located on the access road to the airport from the freeway and is a 2-minute walk to Terminal 1. Car rental agencies are located on the ground floor.
Parking rates at zones B and C: first 15 minutes free. 50 CZK per hours thereafter.
Long–term parking
Long–term parking is available at parking zone D which is a 10-minute walk from Terminals 1 and 2, or 1 stop by bus (U hangáru bus stop). Parking costs 890 CZK per week.
Travellers with a disability card can park at the airport for free.
VIP parking is located on the second floor of parking zone C. Security car wash and cleaning services are available.
Interesting