Prague trams
The Prague public transport system consists of an integrated network of trams, buses, the metro, funiculars, and ferries. The tram system includes 24 daytime lines, 9 night lines, and a historical Nostalgic Tram.

Day lines
Daytime trams operate from 4:00am to 12:00 midnight. They are numbered 1 to 26, excluding the discontinued lines 19 and 23.
Intervals vary from 2 to 20 minutes, depending on the line and time of day. The last trams leave the depot around midnight.
Night lines
Night trams are numbered 91 to 99 and operate from midnight to 4:00am. Their routes are different from the day lines and are longer. The Lazarská stop, which is close to Národní třída, is a connecting stop for several night tram lines.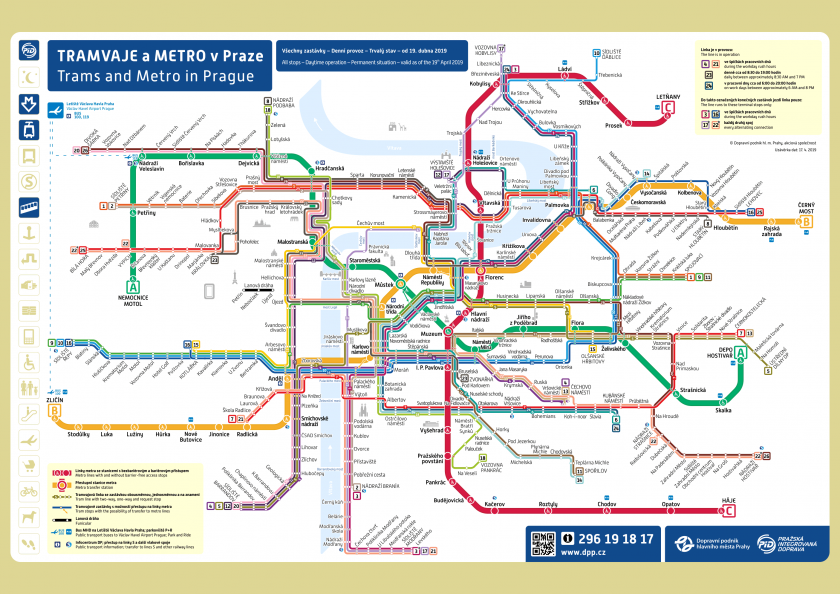 Fare
Prague public transport fares apply to trams.
Prague tram information
There are almost 600 stops, red in colour, with a symbol of either a tram, or a bus.
Timetables are on display at stops. Remodelled stops have an LED electronic display showing the line direction and estimated time of arrival. Some stops are marked with the letter "X" meaning it is a request stop. To embark, a hand signal must be given to the driver. For disembarking, there is a stop button inside the tram.
Each tram is marked with its line number and terminus, and there is a list of stops on display inside. New trams feature a digital display with the tram number and terminus shown in green on a black background. When the tram isn't following its standard route or schedule, due to street closures, or when it is travelling back to the depot, the display reverses to black on a green background.
Visiting tourist attractions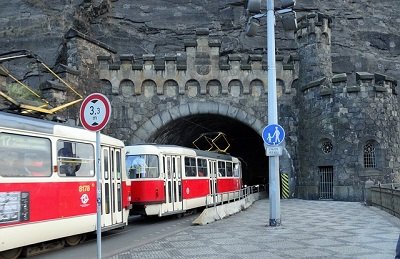 Some trams stop at popular tourist attractions with stop names corresponding to the name of the attraction.
For example, line 9 stops at Václavské náměstí (Wenceslas Square) and Národní divadlo (National Theatre), line 11 stops at Národní muzeum (National Museum), and line 22 stops at Pražský hrad (Prague Castle) and Malostranské náměstí (Lesser Town Square).
Nostalgic Tram Line No. 41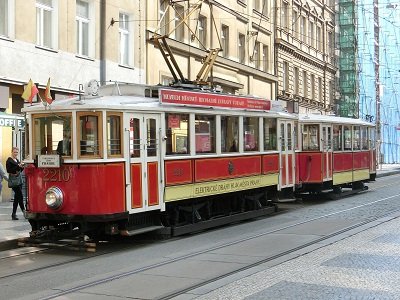 First used in 1991, this historical tram line is a popular attraction. The line operates at weekends and during bank holidays from March to November, 12:00 noon to 5:00pm. The tram leaves Vozovna Střešovice every hour and the fare is 35 CZK (20CZK for children under 15, seniors 70+ and ZTP, ZTP/P cardholders). Tickets can be purchased in the tram.
It travels from Vozovna Střešovice, where the Public Transport Museum can be visited, through the city centre to Prague Castle, and then on to Výstaviště Holešovice which is the terminus. Passengers can embark at any stop. Timetable tram 41
The tram is also available for hire for company events, birthdays, etc. Multilingual guides are also available if required.
Interesting