Vltava River Night Cruise with Buffet
A review: Experience Prague at night in a different way

Vltava river cruises, whether by day or by night, are very popular among tourists and are one of the best sellers on the GetYourGuide travel portal. So we decided to try this experience for ourselves and tell you a bit about it.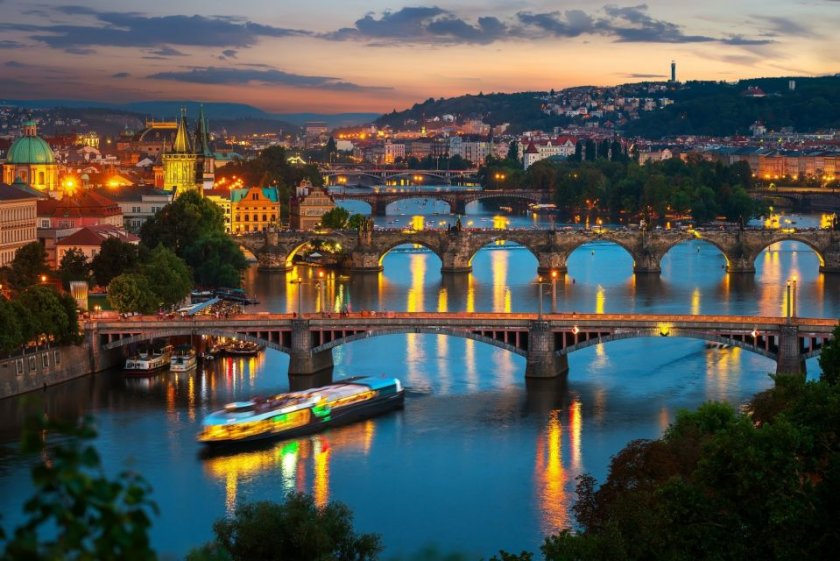 Source: GetYourGuide.com
Basic information about the Prague dinner cruise
The Vltava river cruise starts in the evening, usually at 7pm. However, it is necessary to board the boat at least 15 minutes before departure. The trip itself then takes 3 hours.
The boat is moored at Dvořák Embankment, specifically under the Čechův Bridge (the Intercontinental Hotel can serve as a landmark). Board at pier number 3, look for the building with the sign "Prague Boats".
You can enjoy the boat trip alone, as a couple, with your family or even as a group, just be aware that if there are more than 6 of you, you need to make multiple reservations (there is a limit of 6 people per reservation). On the other hand, as the tables are for 6 people, expect to share a table with others. We were only 4, so we experienced this, but it didn't really bother anyone.

What can you look forward to when booking this night dinner cruise in Prague?
In short - a view of Prague at night and its most famous landmarks, enjoying a good dinner with a pleasant musical background.
A pleasant welcome
Immediately upon boarding the boat we were greeted with a welcome drink. You can already choose when booking if you want a table in the middle of the ship or prefer more exclusive window seats. We had the ones by the windows - and it was definitely worth it. We were also lucky with the weather, no rain and clear sky, so after the dinner, we were able to go out on the deck.
A unique view of Prague's most famous sights
During the cruise, you will have a view of several of Prague's top sights, with the backdrop of the setting sun, and later beautifully lit: the Prague Castle, the Rudolfinum just opposite it on the other bank, the unusual view of Charles Bridge, the Petřín tower towering over the whole of Prague, the historic Vyšehrad and last but not least the unique Dancing House. Believe us, it is a completely different experience in the dark!
Excellent dinner buffet
The ticket for this Vltava river cruise includes dinner with a cold buffet, warm buffet and desserts. Everything we tried was tasty, the menu includes Czech and international dishes, and there are vegan and vegetarian options as well. Do not miss the sweet spot at the end! In addition, the food was constantly replenished, so there is no need to worry about running out. The service is very nice and attentive.
Drinks are not included and must be purchased if you want some, but the prices (quite surprisingly) are not exorbitant.
Live music performance
Live music makes the whole cruise more enjoyable. Don't worry, you will still be able to chat with your friends, the music is not so loud that it disturbs you.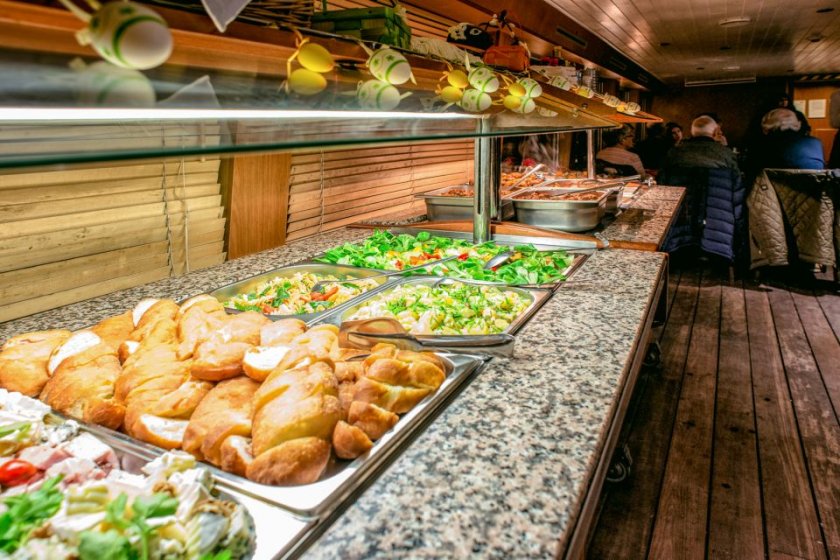 Source: GetYourGuide.com

How to book this Vltava river cruise with dinner in Prague
Go to the trip website GetYourGuide
Select number of participants, date you would like to take the trip and preferred language (you´ll get the map in this language)
Choose the seats (Basic with a table in the middle of the boat or Exclusive with seats in the window area)
Confirm your reservation and then just look forward to your unforgettable cruise!
Or simply USE THE FORM ABOVE.

Why is this river cruise in Prague worth a try, what did we like?
When booking Prague night cruise with dinner, you can look forward to:
an unconventional view of Prague's famous monuments
trip that is perfect for everyone: couples, families or groups of friends
buffet dinner with a variety of dishes, everyone will find something to choose from
fine music accompaniment that does not disturb
friendly attentive staff
pleasant, relaxed atmosphere
In terms of booking process:
easy and flexible booking with option to pay later
if something happens and you will be forced to change your plans, there's a free cancellation with full refund up to 24 hours in advance

And what about cons? Are there any?
We would not say that the comments below are outright cons, we would rather say it's just something that is good to know… however, they may play a role for some.
less privacy as you'll likely be sitting with other guests at the table
drinks are not included
weather forecast, which may affect your comfort during the cruise or whether you can get on board or only have to stay inside the boat
Pets or larger luggage should be left at home. They are not allowed on board.
And last but not least - make sure you don't get seasick :)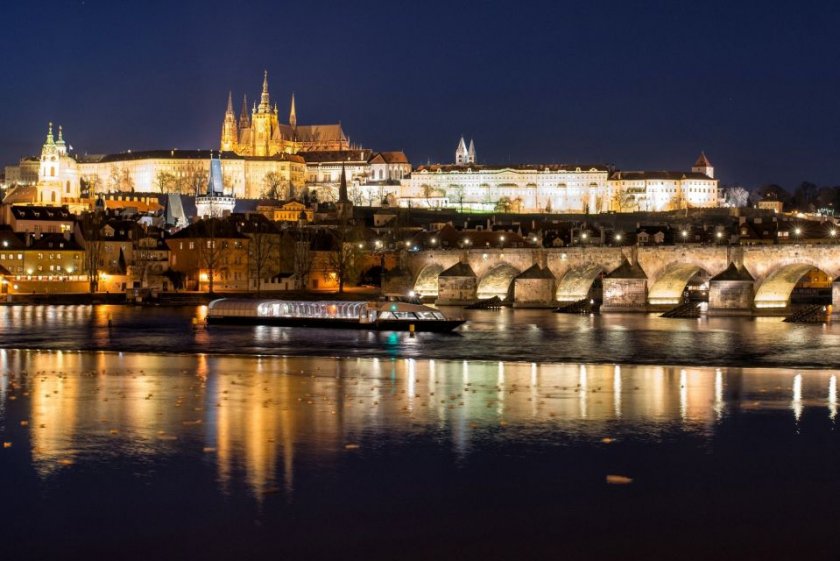 Source: GetYourGuide.com

SUMMARY
Prague is undoubtedly amazing during the day and even more at night. And although Prague is home to us and we often wander around it by street lamplight, seeing it from the shore or from the deck of a boat is something special. Combined with good food and nice music, the result is a very pleasant evening that we really enjoyed. Therefore, we can recommend this river cruise in Prague to everyone. We can't say if this is the best river cruise in Prague, but it's definitely worth trying.
Interesting