Best things to do in Prague with kids, part 4
Even the journey is a destination: train rides, boat rides, historic tram rides
Even kids can have fun in Prague! Here's a series of tips on places in Prague to take the kids on a trip or just spend a nice afternoon together. All the tips are always divided into themed sections, and in this article we've focused on how to enjoy and explore Prague if the kids don't feel like pedalling or if their feet are starting to ache after a day's adventure. On the rails or on the water? Either way! In both cases it will be a unique experience. Prague for Kids offers a variety of options to make the most of your time with the kids in Prague. So enjoy it!
Want even more inspiration and tips for activities with children in Prague? Read more articles on this topic!
Best things to do in Prague with kids - part 1
Best things to do in Prague with kids - part 2
Best things to do in Prague with kids - part 3
Would you recommend any other places that we don't have in our selection? Let us know, we will be happy to add it to the list.
1. On the tracks
By steam train (https://www.cdnostalgie.cz/) - several times during the summer season, a steam train led by the Všudybylka engine leaves Smíchovské nádraží station for a trip to the Posázaví and Ladov region. It also offers afternoon sightseeing tours through Prague (to Hostivice and back) with unique views of the Prokopské valley, historic viaducts and the panorama of Prague Castle.
By Prague Motor Train (https://pid.cz/zabava-a-zajimavosti/prazsky-motoracek/) – on Saturdays, Sundays and public holidays you can also take a nostalgic train ride from the 1950s on two historically interesting Prague lines (Prague Barrandien and Prague Semmering) from the Main Railway Station to Zličín. Historical panoramas, limestone cliffs and natural parks alternate behind the window.
By the Ekoexpress train (https://www.ekoexpres.cz/) – a machine that sets off on an hour-long tour of Prague's sights, which will be appreciated by many a child's little feet. You can hop on every half hour at Old Town Square. Along the way, you will see the Old Town, Lesser Town and Hradčany.
Children´s Train (https://www.facebook.com/detskyvlacek/) – the original historic train from 1841 will delight the little ones. It is called the Bohemian Lion, has two carriages, safety belts, smokes from the chimney and runs slowly enough. It forms part of the children's playground on Slovanský ostrov, just behind Žofín Palace.
By the historical tram (https://www.dpp.cz/zabava-a-zazitky/historie-dpp/historicka-linka-c-41) - special line 41 makes its trips every weekend and on holidays. From the Prague Exhibition Grounds (stop Planetarium Praha) it will take you to the Střešovice carriage, where you can visit the thematic Public Transport Museum.
By cable car (https://pid.cz/lanova-draha/) – since 1932 an electrified cable car has been running from Újezd to Petřínský vrch. On a 0.5 km long track it covers 130 vertical metres in 4 minutes and offers beautiful views of Hradčany. At the finish line you will find the Petřín Tower (suitable for children from 5 years old), the Mirror Maze and the blossoming Petřín Gardens. Please note that the cable car is not wheelchair accessible.
Photo source: DPP (dpp.cz)

2. River trips
By steamboat (např. https://www.paroplavba.cz/) – hourly or longer sightseeing cruises on the Vltava River are offered by a number of operators. You can choose from historic paddlewheel steamers and modern motor boats. You can enliven your children's view of the Prague skyline with stories about Šemík, Libuše and other personalities of Czech history and legends. Children will find it equally interesting to sail through one of the locks on the Vltava River. You can also take a steamboat ride to the ZOO and Botanical Garden (from Rašín's Embankment to Císařská louka Island) or take a day trip to Slapy or Mělník and admire the picturesque corners of the Vltava meanders.
By ferry (https://pid.cz/privozy/) – a short ride on the ferry will make your walk around the city more interesting. In Prague, seven ferries connect the banks of the Vltava River. You can take a ride from Smíchov's Náplavka to Císařský ostrov with its beautiful playground (Výtoň-Císařská louka) or from Karlín to Holešovice and go shopping at the farmers' market in the famous Hala 22 (Rohanský ostrov-Prague market). All ferries have wheelchair accessible piers and can accommodate a pram.
By Boat Elektronemo (https://www.paroplavba.cz/lod-elektronemo) - this remarkable ecological vessel powered only by solar energy will take you through the picturesque corners of Prague's Čertovka district where other boats cannot fit. You can combine your cruise with the Karel Zeman Museum, in front of which Elektronemo is moored.
On a pedal boat or rowing boat – take popsicles and sunglasses and enjoy a fun hour on a pedal boat of various sizes and shapes. Or wait for the sunset and enjoy the magical atmosphere on a ferry with a kerosene lantern. The rentals, which can be found on Slovanský ostrov (https://www.slovanka.net) and Smetana embankment, are open from April to October.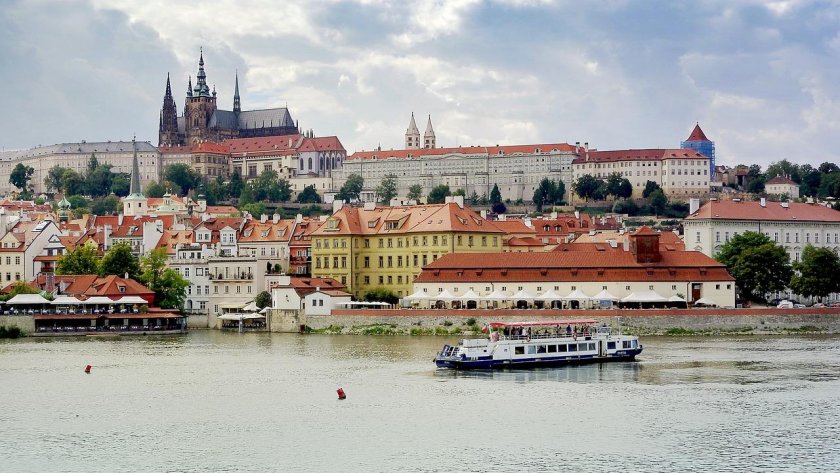 Interesting