Prague e-Bike Tour
A review: Explore the best of Prague on an electric bike
How about about exploring Prague in a different way than just walking or taking a tour bus? Explore the best places in Prague on bike! Not really a big sports person? Don't worry, with e-bike everyone can enjoy cycling with almost no effort.
We tried one of the e-bike tours in Prague offered on the GetYourGuide.com experience portal and wrote a few words about it. So, let's take a look at what you can expect and whether the trip is worth it.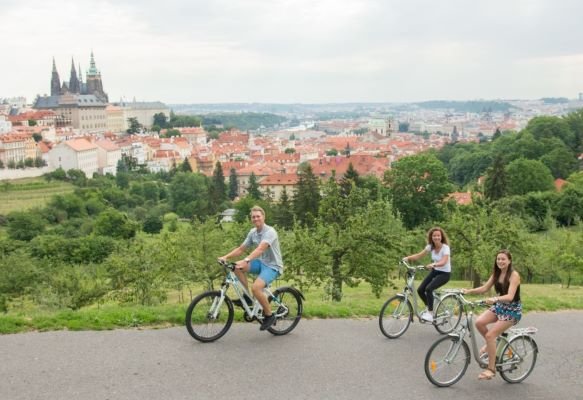 Source: GetYourGuide.com
General information about the e-bike tour in Prague
This electric bike tour in Prague takes 2 or 3 hours, depending on which option you choose when booking.
You can also choose your preferred time of the trip, there are always several options to choose from during the day. In case of a 3-hour bike tour, you can choose the time completely flexibly according to your preference (i.e. you don't choose any of the pre-determined ones).
No need to worry about how to get to the meeting point. This Prague bike tour includes a pick-up directly at the hotel.
The bike tour we´re writing about and offered by GetYourGuide is private, which means that you can enjoy it just with your friends or family.
The route of the trip is given in advance only indicatively. What exactly you visit during the trip is partly up to you. Do you have any preferences? Tell the guide! Just keep in mind, however, that the tour does not include admission to the places you visit.
The experience is not suitable for children under the age of 8, pregnant women, or people with any significant health limitations.

What can you look forward to when you decide to explore Prague on an e-bike?
The Prague bike tour starts right in the city centre; in case of a private tour, you can get to the meeting point by a comfortable taxi that will pick you up right at your hotel (or at the address you provide).
If you've never ridden an e-bike before, don't worry. It's basically the same as riding a regular bike (or even easier), and you'll have a chance to try out the e-bike before the trip starts. The guide will also give you some basic information about the route of the trip and some safety instructions.
It is great that the route of this e-bike tour through Prague is not fixed, it can be adapted to individual wishes. Of course, the major highlights of Prague are always included, such as Prague Castle, Petrin Hill, or Kampa and Lennon Wall. For each of the places you visit, you can expect some interesting facts about that place from the guide. The guides are locals, so you can also look forward to some local insights to spice up the narrative about Prague during your guided tour. However, don't count on entering and visiting the sights, the stops are always only for a few minutes.
And last but not least - what would a trip be without some photos! Just ask your guide and he will be happy to take a photo of you.
Tip:
Especially in the warmer months, after such an experience, a refreshing drink or a cold pint of beer will hit the spot! Find out where to go for the best cocktails, where to enjoy a drink with a view or where they have good beer on tap!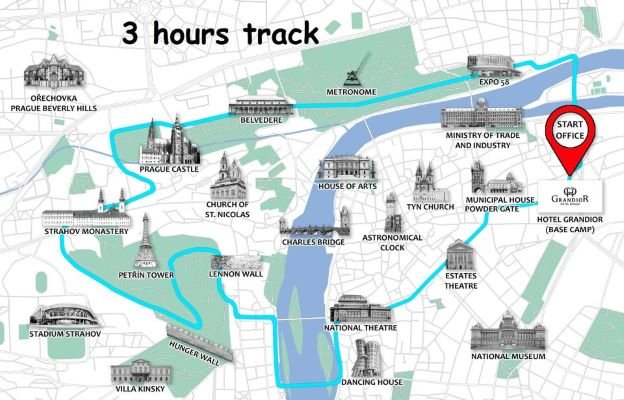 Source: GetYourGuide.com

How to book a private Prague e-bike tour
To make a reservation of the e-bike tour in Prague, just follow these steps:
Go to the website GetYourGuide.com
Select the number of participants, preferred language and choose the date you want to book the tour. Then click on the button Check availability.
Choose one of the options (2-hour private tour or 3-hour private tour), and if necessary also the exact time
Add to cart.
Enter your personal details, payment information and confirm booking. All essential information should be sent to your email.
Or simply USE THE FORM ABOVE.

What's cool about this Prague bike tour and getting to know Prague on e-bike? What did we like?
a fun way to experience the best of Prague
private event, no crowded tour
comfortable pick-up from the hotel
customizable Itinerary: The tour can be tailored to suit your preferences and interests, ensuring a personalized experience
friendly, knowledgeable guides: The guides are passionate about their city and provide engaging commentary, making the tour informative and entertaining.
easy-to-use e-Bikes, which make the journey effortless and enjoyable, moreover with safety instructions and practice time before the tour
big thumbs up for providing a helmet (unfortunately it is not a standard feature, we often see a lot of tourists in Prague on a bike or scooter without it)
a bottle of water and photo service included
in rainy weather or in winter, raincoats and gloves are supposedly available (but no personal experience, as the weather was good during our ride)
In terms of booking process:
easy and flexible booking with option to pay later
if something happens and you will be forced to change your plans, there's a free cancellation with full refund up to 24 hours in advance

Is there anything else worth mentioning? Or any possible cons?
E-bikes are very easy to ride, but if you're not a fan of cycling or comfortable with cycling at all, you probably won't enjoy the experience much.
Limited time: The duration of the tour is three hours, which may feel a bit rushed for those who wish to spend more time at each location.
Weather-dependent: Like any outdoor activity, the experience can be influenced by the weather conditions. It's advisable to check the forecast and dress accordingly.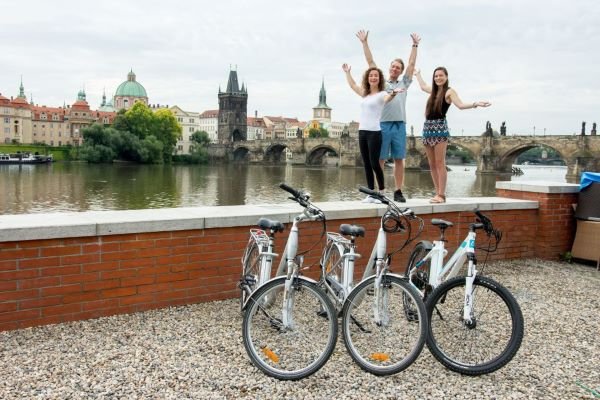 Source: GetYourGuide.com

SUMMARY
We personally like to cycle around Prague regularly and the idea of introducing Prague to visitors from the saddle is cool. It's a great way to explore the city's top attractions while enjoying the convenience and comfort of an electric bike. While the e-bike tour may be relatively short, it offers a comprehensive snapshot of Prague's highlights while venturing off the beaten path. The
private electric bike tour in Prague
is well-organized, guides are very friendly and we are sure that everyone will enjoy it (even those who are not big fans of city tours as they are often not very exciting). Just try it for yourself!
Interesting